Episode 10

Richard Herring: Lord of the Dance Settee: Episode 10
Lord of the Dance Sofa #10: The tour grinds onwards and Richard is messing around more and saying things that he shouldn't about his ex-girlfriend and Cliff Richard (different stories). With stories and how his mother-in-law tried to kill him, how he enraged a French man in 1983 and why he has the numbers of emergency masseuses in Worthing. Plus some fun digressions about why people in the New Forest like to keep their horses on the road and why you can't go to A&E just because you've got ginger hair. All this and sh*tting next to a Japanese man. Experience the interminable silence when miscommunication makes the start of the show go wrong (twice) and the dead response to adlibbed material that doesn't work. This is what it's like on tour.
All the remaining tour dates can be seen on richardherring.com
Buy tickets to see the DVD record at thebloomsbury.com SPECIAL OFFER - there are 50 tickets to the DVD record on May 15th for the bargain price of £10. Use the code HERRINGLOTD on internet (or by phone)
Help out with the RHLSTP video kickstarter
Published: 11th May 2015. Length: 51 minutes. Size: 92.7mb
Next LOTDS episode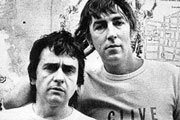 Date: 21st May 2015 Length: 43 mins Size: 79.6mb
LOTDS #11: Not Suitable For Minors? - The podcast takes us through the Lord of the Dance Settee gigs in late April and early May at Harlow, Bristol, Monmouth and...