Richard is in a bad mood as he's just come from the gym where Ian Virgin has inexplicably charged him a pound for his towel and then he saw himself on the news so he is worried he is dead. His guest is Matthew Crosby from Pappy's who has to ponder what it would take to make him fellate Keith Allen. Light is shed on the truth about Greyfriar's Bobby and whether it's worth travelling to Mars for a glass of water and Rich is travelling back to 1988 for his story from the Fringe. There's 5 minutes of stand-up from the brilliant Lou Sanders and one lucky person is set to win 25 pound and a copy of AIOTM: The Complete Cumpkin.
Published: 5th August 2011. Length: 56 minutes. Size: 51.64mb
Previous RHEFP Episodes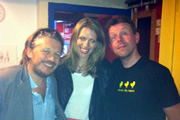 Date: 3rd August 2011 Length: 62 mins Size: 57.20mb
Here it is, almost live from The Stand comedy club in Edinburgh. The very first RHEFP (rhefp), a daily podcast keeping you up to date with all the Fringe gossip...