Episode 3 - Danielle Ward

Isy Suttie's The Things We Do For Love: Episode 3 - Danielle Ward
Writer, comedian, and host of Do The Right Thing podcast Danielle Ward is Isy's guest for a conversation that hops, skips and jumps across papier-mache penguins, having songs written about you, showering on houseboats, and being turned on by danger (and more specifically helicopters). We hope you enjoy the show - if so, please spread the word on social media, in person and via sky-writing.
Published: 3rd January 2017. Length: 60 minutes. Size: 83.4mb
Next Isy Suttie episodes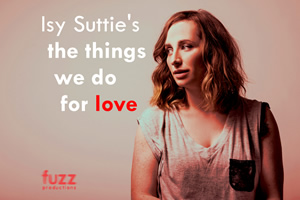 Date: 3rd February 2017 Length: 58 mins Size: 80mb
Stand-up, musician, actor and star of Uncle, Nick Helm, joins Isy for a chat that covers all the bases: lasagna, builders, drinking to forget, young love and the romance of...