Episode 3.9 - The Apprentice

Hayley & Ruth: Two Stars: Episode 3.9 - The Apprentice
Hayley & Ruth are at the National Theatre waiting to review some play or other. But while they wait, they respond to a listener request to review popular television programme The Apprentice.
Published: 6th November 2019. Length: 33 minutes.
Next Hayley & Ruth episode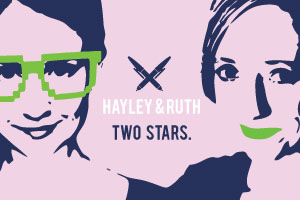 Date: 17th December 2019 Length: 43 mins Size: 54.3mb
Hayley & Ruth interview the incredibly softly spoken author Jinny Glover. A woman so quiet that members of her own family question her existence... Guest starring Ruth Bratt (@ruthbratt).