Episode 2.7 - Lesley Boughton

Hayley & Ruth: Two Stars: Episode 2.7 - Lesley Boughton
In this episode, Hayley and Ruth are thrilled to chat to highly experienced actor Lesley Boughton, star of rep, fringe, big screen, small screen and medium screen.
Published: 7th March 2018. Length: 38 minutes. Size: 53.4mb
Next Hayley & Ruth episodes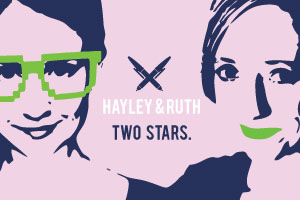 Date: 28th April 2018 Length: 32 mins Size: 44.5mb
After a never ending winter, for two whole days this April, the UK saw sunshine. Hayley and Ruth review this brief bit of British Summer Time from London's bustling Southbank,...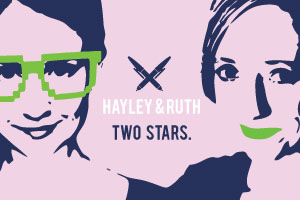 Date: 19th June 2018 Length: 34 mins Size: 62.9mb
Hayley & Ruth might have failed to secure free tickets to the latest Jurassic World movie, so they haven't actually seen it yet - but that won't stop them reviewing...