Episode 2.5 - New Year's Fireworks

Hayley & Ruth: Two Stars: Episode 2.5 - New Year's Fireworks
From Ruth's old offices at the Telegraph, Hayley & Ruth usher in 2018 by reviewing the new year fireworks display. They also look back at their cultural highlights of 2017.
Published: 9th January 2018. Length: 39 minutes. Size: 26.6mb
Next Hayley & Ruth episodes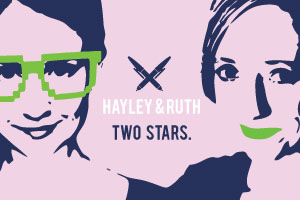 Date: 14th February 2018 Length: 28 mins Size: 38.4mb
On the most romantic day of the year, Hayley and Ruth join Irish poet Fintan Cresss to review a restaurant and to talk about his latest book Hallowed Halls.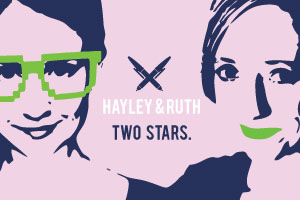 Date: 7th March 2018 Length: 38 mins Size: 53.4mb
In this episode, Hayley and Ruth are thrilled to chat to highly experienced actor Lesley Boughton, star of rep, fringe, big screen, small screen and medium screen.