Page 4

Pappy's Flatshare Slamdown Page 4
An innovative audio comedy panel game podcast from sketch team Pappy's, recorded in front of a live audience. These episodes are not topical so it's fun to listen to Flatslam anytime.
We absolutely love making Flatshare Slamdown, and we very much hope you've enjoyed the close-to 50 episodes we've turned out in the last six years. If you do enjoy the show, we'd be very grateful if you'd consider bunging us a donation
Previous episodes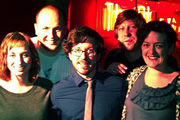 16th June 2011. 53 minutes.
With Isy Suttie and Maeve Higgins. It's Pappy's Flatshare Slamdown the third and the flatmates are arguing about who's going to make dinner. Tom gives us his recipe for Tobasco...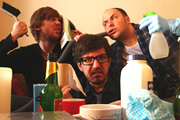 8th June 2011. 50 minutes.
With Andrew Collins and Katy Wix. Matthew, Ben and Tom are bickering over who is going to pick up a parcel from the post depot. Collings & Herrin's Andrew Collins...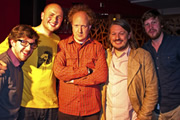 1st June 2011. 47 minutes.
With Richard Herring and Andy Zaltzman. In this first episode of Pappy's Flatshare Slamdown Matthew, Ben and Tom are arguing over who is going to pay the gas bill. The...