Festive Special 2016

Pappy's Flatshare Slamdown: Festive Special 2016
Ho Ho Ho! Eleanor Tiernan and Lloyd Langford are Pappy's little helpers for this very merry festive special. It's crammed full with yuletide goodies, including... Clare Balding, geese, the Irish Times, a shelf, Naughty Peter, robins, 'tree flips' and Advocaat!
And if you're not sated at the end, then check out the accompanying episode of The Comedian's Comedian Podcast with Stuart Goldsmith, in which Pappy's chat about their live shows and future together. And drink even more Advocaat. Listen
If you want to give us a Christmas present, then what we'd love is the gift of exposure. Help us spread the word about the show: gift it to a friend, secret-santa it to your entire following on social media... or why not make a loved one the offering of all the Flatslam in existence (just put the URL comedy.co.uk/pfs into a Christmas card - sure it'll look cheap, but they'll thank you for it eventually).
Please do also 'like' our Facebook page, follow Pappy's and Producer Ben on Twitter @pappystweet @_ben_walker and visit Pappy's Tumblr.
Published: 19th December 2016. Length: 69 minutes. Size: 94.8mb
Video
Stuck at work with nothing to do? Fear not, here is the full, unedited VIDEO of the Pappy's Flatshare Slamdown Festive Special 2016!
This video is in 360° format - so it won't make much sense unless you watch it using up to date versions of Chrome, Opera, Firefox or Internet Explorer - or the YouTube app on iOS or Android (or VR goggles if you're a fancy pants).
Compare it to the audio version (above) and see if you can work out where Producer Ben found over 20 minutes of cuts!
Episode Image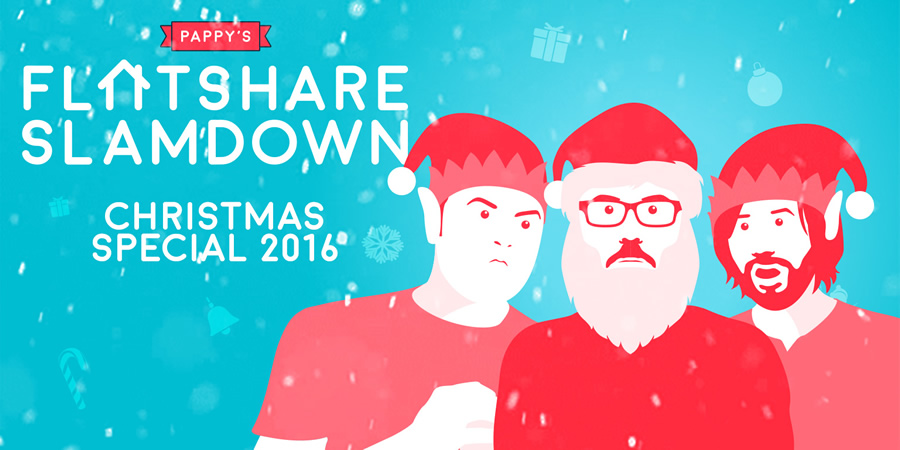 Next PFS episodes