Series 5, Episode 1 (Neighbours)

Pappy's Flatshare Slamdown: Series 5, Episode 1 (Neighbours)
Angela Barnes and Alex Brooker join Pappy's for the first episode of Series 5! All the old favourites are here... puns, ill thought-out games, overlong jingles, deep south legal arguments and a dodgy opening sketch. Also: Matthew channelling his inner soul singer, Ben getting an ASBO, Tom weirding out his real-life neighbours, Alex almost persuading someone to move to Reading and Angela finding filth in everyday words. It's good to be back!
The fantastic show art comes courtesy of Matt Partridge. Check him out @MattSatOnTheCat or at his website
Please do help us spread the word about the new series: Facebook it, tweet it, comment on iTunes it. Muchas gracias!
Published: 8th January 2015. Length: 43 minutes. Size: 58.3mb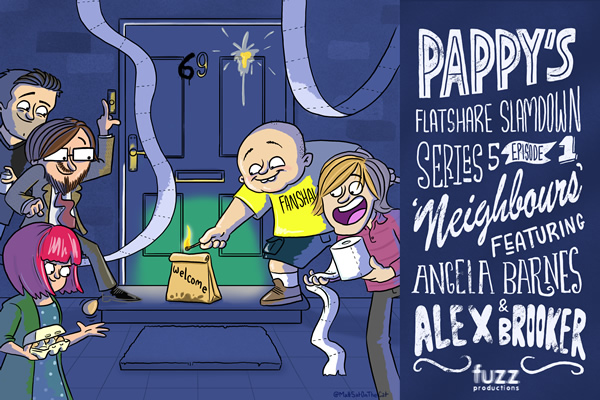 Next PFS episodes