Series 4, Episode 3 (Washing Up)

Pappy's Flatshare Slamdown: Series 4, Episode 3 (Washing Up)
Paul F. Tompkins and Elis James join Pappy's at the Soho Theatre in a very fun episode indeed! In it Paul shows off an unexpected British accent, Elis reveals his underwhelming impersonation skills, Ben uses the word Flibbertigibbet, Tom exposes his uncanny inability to rhyme and Matthew becomes a one-man jukebox (for a minute or two and then stops). The beef confusingly comes from a man called Laurie and is about a woman called Ron.
The show illustration comes courtesy of the pen / hand / mind / computer of Roger Wade. We think it is brilliant - if you agree then you can find his website at rogerwadeillustration.com
If you want to be a true champ, then please help us spread the word about the show: tweet about it, enthuse on Facebook, comment on iTunes or just hire one of those airplanes to write a message about it in the sky.
Please do also 'like' our Facebook page, follow Pappy's and Producer Ben on Twitter and visit Pappy's Tumblr. Also, do check out Pappy's excellent new BBC3 sitcom Badults.
Published: 8th August 2013. Length: 52 minutes. Size: 71.77mb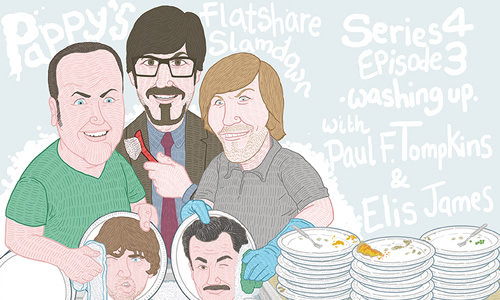 Next PFS episodes