Series 7, Episode 4 (Lucy Porter & Rick Edwards)

Do The Right Thing: Series 7, Episode 4 (Lucy Porter & Rick Edwards)
Lucy Porter and Rick Edwards are on the guest list for our WEDDING SPECIAL, recorded earlier this year as the hen do for Danielle ahead of her then-impending nuptials. And what bride-to-be could want for more? With brilliant tips on how to impress your future parents-in-law, what to do if the caterers poison the Wedding Breakfast, how to deal with people who don't buy you gifts and some pertinent advice from our holiest ever expert, Reverend Ravi Holy. Oh, and there's a load of stuff about spunk, Kinder Eggs and setting fire to stuff.
Download episode
(right click, select save link)
Published: 27th August 2019. Length: 60 minutes.
Next DTRT episodes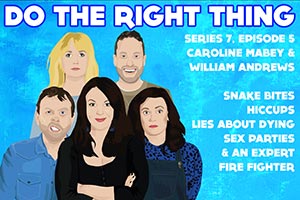 Date: 3rd September 2019 Length: 56 mins Size: mb
Caroline Mabey and William Andrews are the very fun guests for this earliest recording of Series 7 (back in February 2018). It covers vital subjects such as the correct way...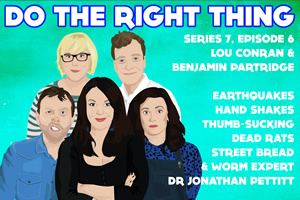 Date: 10th September 2019 Length: 54 mins Size: mb
Lou Conran and Benjamin Partridge are on board for discussions about being indoors for an earthquake, shaking hands, sucking thumbs, dead rats (and badgers), kids eating food off the pavement...