This week the guests are Penny Dreadful and sizeable chunk of the Alternative Comedy Memorial Society (ACMS) Thom Tuck and Karaoke Circus frontman, the white half of Ward & White, fellow Dave-Gorman-on-Absolute refugee and Do The Right Thing music composer Martin White. Armed with them, the teams must tackle the collapse of civilisation, the rights and wrongs of tattoos and excesses of body hair. This week's expert is Santa (genuinely) and we even get to hear the otherwise entirely neglected Film and TV jingle music (composed for a round we've never actually been able to fit into the recording). But if we learn one thing above all else this show, it is that Martin is NOT gay. Or is he? No.
Published: 6th October 2011. Length: 31 minutes. Size: 43mb
Previous DTRT Episodes
Date: 28th September 2011 Length: 33 mins Size: 45.4mb
Rich Fulcher and Emma Kennedy appear to have mistaken Do The Right Thing for a horror panel show as they recount tales of burial alive and pickled-onion-induced wedding-death. Also: reluctant...
Date: 21st September 2011 Length: 30 mins Size: 41mb
Danielle, Margaret and Michael are joined by Al Murray and Shappi Khorsandi to discuss royal rejections, alien probes, vegans and an audience member's toilet issues. Recorded at the Pleasance at...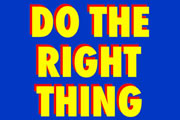 Date: 2nd August 2011 Length: 48 mins Size: 65.8mb
This is the Do The Right Thing pilot episode recorded back in April 2011. It is so rough and ready that we forgot to introduce any of the teams -...