Episode 379 - Fin Taylor

The Comedian's Comedian Podcast with Stuart Goldsmith: Episode 379 - Fin Taylor
In an industry awash with 'edgelord' comedians, Fin Taylor is the real deal. Erudite, thunderously funny, and provocative having done the reading first, he manages to annoy absolutely everybody. We talk about how his unusual schooling instilled in him an apparent license to infuriate; how his need to row back from the furthest possible point makes his new material gigs so painful; how he went turbo after an agent-shedding Edinburgh decision; and why he finds self-worth in his material not the audience's approval...
Download episode
(right click, select save link)
Published: 16th July 2021. Length: 94 minutes.
Next ComComPod episode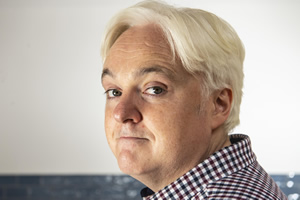 Date: 24th July 2021 Length: 82 mins
Crime fiction powerhouse and former circuit comedian, CK McDonnell is on the cusp of levelling further up, with a TV adaptation of his half a million selling Dublin Trilogy in...
The Comedian's Comedian Podcast with Stuart Goldsmith - All Episodes