Episode 346 - Gary Gulman

The Comedian's Comedian Podcast with Stuart Goldsmith: Episode 346 - Gary Gulman
"Hello babies, welcome to Gary Gulman..." A comedian's comedian in the truest sense, we discuss the making of Gary's stand-up special/documentary The Great Depresh, charting a mental health journey via electroconvulsive therapy and medical ketamine, through recovery to genuine brilliance. We learn the origin of the world's most humble opening joke and why we should crowds credit for their vocabulary; and also cover the writing tip that's visible if you freeze-frame a single shot of the movie, and his love of Kurt Vonnegut.
Download episode
(right click, select save link)
Published: 11th September 2020. Length: 90 minutes.
Next ComComPod episode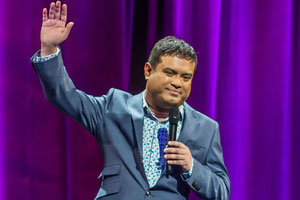 Date: 18th September 2020 Length: 84 mins
One of the first guests on ComCom about 8 years ago, Paul Sinha has had a rollercoaster of a life in the interim. From fringe comedian to celebrity quizzer as...
The Comedian's Comedian Podcast with Stuart Goldsmith - All Episodes