Episode 343 - Nigel Ng

The Comedian's Comedian Podcast with Stuart Goldsmith: Episode 343 - Nigel Ng
Lean as hell and twice as productive, Nigel Ng is coming to shame your work ethic with his radical efficiency! This hilarious UK-based Malaysian comic lets us in on how his background in data science is helping him hit hard on social media, why he knew Edinburgh reviewers wouldn't like him, why he doesn't know what 'texture' means, and what it felt like to gig 5 hours after a huge personal catastrophe. But is he too efficient for his own personal life...?
Download episode
(right click, select save link)
Published: 12th June 2020. Length: 75 minutes.
Next ComComPod episode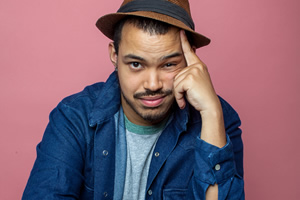 Date: 18th June 2020 Length: 72 mins
Stand-up comic and award-nominated playwright Archie Maddocks loves stitching together routines about kebab shops and his "rough-arse" schooling, with pathos and evocative prose. We talk about writing for the comedy...
The Comedian's Comedian Podcast with Stuart Goldsmith - All Episodes