Episode 342 - Catherine Cohen

The Comedian's Comedian Podcast with Stuart Goldsmith: Episode 342 - Catherine Cohen
Catherine Cohen took home Best Newcomer at the Edinburgh Fringe last year, with a jaw-dropping show bursting with wit, originality and layer upon layer of irony. Her angle of attack, mocking the audience for being so pathetically in love with her, allows her to take huge risks on stage, in a character that was grown through vast quantities of just the right sort of stage time. We talk about why she loves the occasional "stone-faced" audience-member, about playing to win and succeeding, surviving burn-out, and why she can't stop "freaking out about absolutely everything"...
Download episode
(right click, select save link)
Published: 4th June 2020. Length: 59 minutes.
Next ComComPod episodes
Date: 12th June 2020 Length: 75 mins
Lean as hell and twice as productive, Nigel Ng is coming to shame your work ethic with his radical efficiency! This hilarious UK-based Malaysian comic lets us in on how...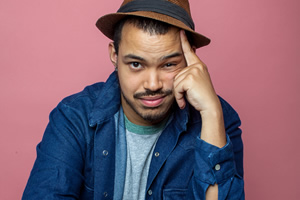 Date: 18th June 2020 Length: 72 mins
Stand-up comic and award-nominated playwright Archie Maddocks loves stitching together routines about kebab shops and his "rough-arse" schooling, with pathos and evocative prose. We talk about writing for the comedy...
The Comedian's Comedian Podcast with Stuart Goldsmith - All Episodes