Episode 322 - Tom Basden

The Comedian's Comedian Podcast with Stuart Goldsmith: Episode 322 - Tom Basden
Returning to stand-up this month with a run at Soho Theatre, after many years working on other projects including his sitcom Plebs, Tom Basden is inventive and prolific, also handsome. We talk about the parallels between the superb musical comedy that won him Best Newcomer at the Edinburgh fringe and his new stand-up, discover Tom's English middle-class-ness and why he's very suited to telling some 'guys' to 'calm down', and explore whether his work ethic is pathological...
Download episode
(right click, select save link)
Published: 7th January 2020. Length: 53 minutes.
Next ComComPod episodes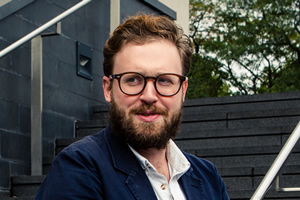 Date: 16th January 2020 Length: 73 mins
The only comic ever to have consecutively won Best Newcomer and Best Show at the Edinburgh Fringe, John Kearns is a master at finding pathos in the prosaic, combining clowning...
Date: 23rd January 2020 Length: 58 mins
A master of "pulling back into the wide angle", Jamali Maddix thrives on big routines about big subjects, letting his innate comic ability run riot. We talk about the pressures...
The Comedian's Comedian Podcast with Stuart Goldsmith - All Episodes