Episode 321 - Santa Claus (and Herbie Treehead)

The Comedian's Comedian Podcast with Stuart Goldsmith: Episode 321 - Santa Claus (and Herbie Treehead)
In this Christmas Special, Stuart speaks to the actual Santa Claus, via his little helper and confidant, consummate clown Herbie Treehead. Herbie is a phenomenal street-performer, known around the world for his joyful daftness, silly songs and funny bones. We talk about what his first Santa season means to him, and discover an enormously rich and respectful seam of kindness and good cheer. We also dive into Herbie's origins as a performer and his maverick work within vaudeville troupe Slightly Fat Features; learn how to steal a lorry; and reflect on the nature and cost of real performative risk...
Download episode
(right click, select save link)
Published: 19th December 2019. Length: 100 minutes.
Next ComComPod episodes
Date: 7th January 2020 Length: 53 mins
Returning to stand-up this month with a run at Soho Theatre, after many years working on other projects including his sitcom Plebs, Tom Basden is inventive and prolific, also handsome....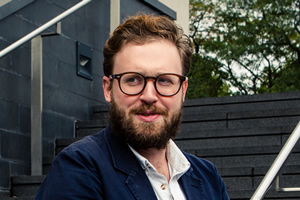 Date: 16th January 2020 Length: 73 mins
The only comic ever to have consecutively won Best Newcomer and Best Show at the Edinburgh Fringe, John Kearns is a master at finding pathos in the prosaic, combining clowning...
Date: 23rd January 2020 Length: 58 mins
A master of "pulling back into the wide angle", Jamali Maddix thrives on big routines about big subjects, letting his innate comic ability run riot. We talk about the pressures...
The Comedian's Comedian Podcast with Stuart Goldsmith - All Episodes