Episode 45 - Technical Difficulties

Richard Herring: Ally and Herring's Twitch of Fun: Episode 45 - Technical Difficulties
This very special Twitch of Fun is recorded over two nights as the first one went a bit wrong, but it was worth the 24 hour wait to see the gold that the puppets would come up with. Richard is weak, as usual, but is pulled towards comedy by his pretend friends whilst debating the petrol crisis, men who say it's not all men, Starmer's supporters going against what he wanted and the immortalisation of Kevin Costner in song. Plus Right Bollock's BAFTA plan and Prince Andrew's banana preference. And remember you can buy Richard's new book and audiobook wherever you get your stuff from. Don't give it to Ian Amazon until he comes up with a better robot.
Published: 4th October 2021. Length: 84 minutes. Size: 39.1mb
Video
Next Ally and Herring episodes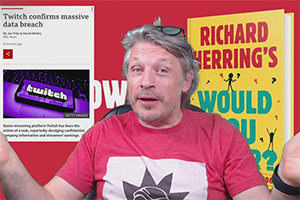 Date: 8th October 2021 Length: 69 mins Size: 31.9mb
Richard has discovered where he stands in the Twitch firmament of stars and it's not great news. Perhaps he is too tired to perform today, but Ally comes to the...
Date: 15th October 2021 Length: 64 mins Size: 30mb
A surprise guest leads to an impromptu promo for Twitch Of Fun and I think you will all be able to tell who the funny one is in the family....
Richard Herring: Ally and Herring's Twitch of Fun - All Episodes