Episode 10 - AI BJs

Richard Herring: Ally and Herring's Twitch of Fun: Episode 10 - AI BJs
Richard is worried about the future of Soleros when he should be worrying about the depths his career has sunk to. Luckily his little pals turn up to help him through this difficult time. There's more birthdays with Donkey, what's the buzz with Brian Wasp and Marmite Lid observational comedy, but Ally is on hand to talk about lockdown 2, sex robots, Lily Allen's wedding and his prejudice against foreign parrots. Plus 35 years of embarrassing grown adults talking to socks in the Broom Cupboard. And a slightly new direction for Whory Horse. And let's see how Ally gets on when he is forced to go solo.
See this live every Thursday at 8pm on Twitch and subscribe it you're with Amazon Prime (for free). Or just follow for notifications of when Herring is on air.
Pre order The Problem With Men here
Support the kickstarter and get the donkey T shirt. All profits go to helping Live Comedy.
Published: 11th September 2020. Length: 73 minutes. Size: 34.5mb
Video
Next Ally and Herring episode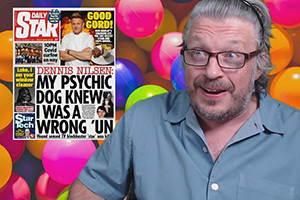 Date: 18th September 2020 Length: 75 mins Size: 34.8mb
Rich looks like he might finally get to do his sideways look at the news on his own at last, and he's all over the shooting grouse and psychic dogs...
Richard Herring: Ally and Herring's Twitch of Fun - All Episodes