Coronavirus has robbed Tessa Coates three times this summer. First, of watching her great obsession, the Olympics. Second, of performing her latest stand-up hour at the Edinburgh Fringe. And finally, of performing at the Olympics instead of the Fringe. She really did have ambitious plans.
A comedian and actor, Coates is one third of sketch trio Massive Dad and currently developing a sitcom with US Office showrunner Greg Daniels.
However, she fully intended trying to qualify for Tokyo 2020 in the modern pentathlon. This was neither a joke, nor embarked upon as anecdote fodder for a future stand-up hour. It was "a moment of extreme hubris" the 31-year-old acknowledges. Regardless, she was completely serious.
And why not? Her Olympic credentials are striking. Born during the opening ceremony of the 1988 Games in Seoul, she is named after Great Britain's former javelin gold medallist Tessa Sanderson, and danced in the opening ceremony of the London 2012 Games, portraying David Bowie. One of many Bowies admittedly. But perhaps the only one going in the wrong direction, a consequence of her sister, a superior dancer, having pretended to be her in the audition.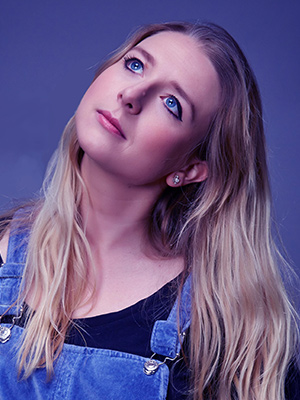 And while Coates might downplay her achievement - "you really cannot imagine how slowly I was going" - she finished the legendary Athens Marathon, to Athens from, er, Marathon, in November last year, running with her mother, who was celebrating her 60th birthday. Mrs Coates had met the comedian's father, a former three day eventer for Canada, "when they both rode horses competitively, to an incredibly high standard". And while neither of her parents ever quite made it to the Games, "they both loved the Olympics.
"My mum has been to almost every one since she was a teenager" Coates explains. "She went to Rio, Beijing, Sydney, Athens. My mum's mum, my grandma and my dad, before my parents had even met, were arrested on the same night at the Munich Olympics. My dad for stealing flags. And my grandma for ticket touting, trying to sell a ticket to a policeman. So yeah, we really like the Olympics."
Her parents' coaching might charitably be described as laissez faire, with Coates' athletic potential extrapolated from her doing well in her baby bouncer. "Still, everyone's very competitive in my family and very sporty" she says, momentarily overlooking the petty criminality. And she has devised a bold strategy for competing in the modern pentathlon, a five-discipline event comprised of running, fencing, swimming, shooting, and crucially, riding.
"I watched it a few times. And it was the showjumping aspect that stood out" she explains. "Because you're given a horse at random. It's a really archaic sport, I can't believe it's still in the Olympics. It's basically just luck of the draw and so many people in it can't ride. Many of them go out in the showjumping. So if you go clear ... I was like, 'I back myself, I think I can do this!'"
She clarifies, reining herself in slightly. "I did not think I would qualify for the Olympics, I just really wanted to give it a go. No-one is saying this is not an insane train of thought. But the qualifiers were open. And if everyone else had gone out in the showjumping, I could have stormed to victory. It's at least a possibility. No, it would have been a disaster wouldn't it?"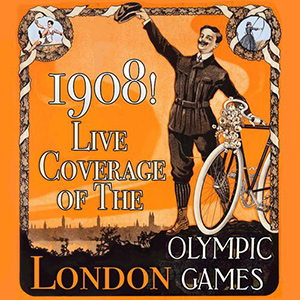 All of which is a marathon way of starting to explain why, with Tokyo postponed and Edinburgh cancelled this summer, Coates has instead devoted herself to writing and recording 1908! Live Coverage of the 1908 London Olympic Games, a podcast covering the 112-year-old event as if it were unfolding live.
Also featuring the vocal talents of Coates' Massive Dad sketchmate Stevie Martin, with whom she produces the Nobody Panic podcast, impressionists Josh Berry and Luke Kempner, plus stand-up David O'Doherty and character comedians Michael Stranney and Kat Bond, the commentary can often seem absurd. Yet it is all based on real competitors, events and squabbling between nations.
"The Americans and British were constantly at war during these games" she explains. "There was a row, if not a fight, at every single event because nobody knew the rules, they were just making them all up. The British had decided that men's running shorts had to be below the knee for decency. And the Americans protested by making themselves these sexy little bootie shorts.
"There were protests about doing events on a Sunday, which some thought should be a religious day of rest. So a guy ran the hurdles with a bible in each hand. The marathon's quite a fun story, it features Arthur Conan Doyle. It was a real point in history and all these famous people of the time were there spectating and taking part."
Having read just about everything ever written about the 1908 Games - "there's only about four books" - Coates would find herself researching an athlete and thinking which comedian friend could fit the role. "But David [O'Doherty] messaged me himself and was like 'I really like your podcast, can I do one?' He loves cycling and was a triple jumper when he was younger. I love hearing about other people's sporting history because it's not something you'd just bring up a party, it would sound arrogant. I'm wondering if there's another podcast in it actually."
Indeed, Coates' ice-breaking question at social gatherings tends to be: "If the Olympics were tomorrow, summer or winter, and you had to compete, what event would you pick? You can come last but you mustn't become a meme and you're not allowed to purposely crash out early."
The podcast reflects this. "I just miss sport so much" she laments. "It's the hero's journey, we want to see someone triumph against the odds in an inspiring way. It's not about how far they jumped but how much they devoted to this thing. I don't think it's particularly about the glory, it's about falling and getting back up, everyone in the stadium being behind you."
And so it is that in her bedroom, she's labouring over this "really dumb passion project about a period of time that I think is really interesting.
"The spirit of those guys trying to set it up. And obviously, they were all aristocrats with time on their hands. But to pick an event that hadn't happened for thousands of years and be like 'yeah, let's do one of those, let's get all the countries involved!' Running and jumping are such dumb things to do and yet we love it, it doesn't get old. It wasn't about profit, it wasn't a political statement. It wasn't about showing off particularly. It was such a silly and wonderful thing that they were trying to do and I want to honour them because it was honourable."
Coates venerates Eddie Izzard, both for his comedy and the resolve that saw him openly declare himself a transvestite early in his career, and more recently run countless marathons. "Too positive and too over-confident" is how she describes herself. "With absolutely a can-do attitude that has got me in plenty of trouble.
"Look at me, I was signed up to the modern pentathlon! It comes from having incredibly supportive parents. My dad said even when I was a baby you couldn't leave me by the side of a pool as I was always leaping in. I thought I could do anything and have grown up to not have the talent I believed myself to have. I've way to much confidence. But it's got me this far."
Indeed, irrespective of her self-deprecation, Coates is forging an exciting television career in the US, after landing a deal to write and star in a show to be executive produced by Daniels, who previously adapted The Office for American audiences and co-created Parks And Recreation.
Further details of the project remain under wraps. But she admits that "pilot writing has been an insane and amazing experience. That's a totally different muscle to making a live show. I basically went and sat on the floor of Foyles book shop and just read every single book on screenwriting. And taught myself from scratch, I had to go from zero to a hundred pretty speedily. It was probably the first time in my life that my positive attitude failed me. I didn't think I could do it. But I'm still in the game and it's still in play."
She's ambivalent about the Hollywood "fever dream" that she's experienced so far, noting the superficiality she's encountered and calling it a "deep end experience where I had to swim or sink, teaching myself in the water". Even so, she reckons that she would move to America "in a heartbeat" if her career really took off Stateside.
"Not to shit on the UK" she suggests. "But there's no risk, no money, nobody wants to make any telly. The option fee in this country is like £300 for someone to buy your idea for a year. The Americans would laugh in your face at that. Writers are taken seriously there, people with ideas are taken seriously, they want to experiment, take risks.
"It felt like Oliver Twist to me, you're suddenly told 'we can do all of those things'. Whereas if you have a big idea in the UK, you're constantly asked 'could it just be three girls in a flat instead? Could it be smaller than what you wanted to make?'"
Although there are no plans for further live shows currently, Coates maintains that Massive Dad, her sketch outfit with Martin and Liz Kingsman, remains a going concern.
"Massive Dad is an entity bigger than all three of us and will always exist" she states decisively. "We did Comedians Giving Lectures [on the Dave channel] last year and we've been filming sketches a bit. But ultimately, there's a bit of a glass ceiling with sketch comedy in this country. There are no panel shows for you, there's no real next step after you've made a great live show. They've taken away BBC Three and the radio shows that were stepping stones. You can't just go from Edinburgh to a Netflix series.
"Once, we wrote this show about three sisters who were witches, the most powerful witches of all time. And the note we received back [from the channel] was: 'We love it! What if they weren't witches?'" She laughs. "It's a show about the most powerful witches of all time, that's what the show is about. Otherwise, it's just three sisters.
"For all the crazy stuff that's happening in America right now, it's an exciting place to be. Once you're on the right wavelength and you get it, it's like ok, I'm coming in. I'd love to live on a big ranch in California."
Having last performed live in March in early previews for her cancelled Fringe run, Coates only returned to the stage 11 days ago, recording for the latest series of ITV2's The Stand Up Sketch Show. It proved a tricky experience, at least initially. "I thought muscle memory would kick in and my memory was like 'nope, we don't remember how to do this'" she sighs.
She likens herself to the character of Colin Robinson in FX/BBC's horror mockumentary What We Do In The Shadows. "I'm such an energy vampire" she admits. "Everyone's met one and I feel like I might be one. I love people, love talking and I've missed stand-up for sure.
"Do I just miss the showing off and attention-seeking? You have to think 'have you given something worthwhile to somebody else?' If you haven't, you're just a kid in the middle of a room shouting that everyone should look at your cartwheel. Part of the reason for this podcast is that it's an excuse for me to do some voices, hang out with some nice people for a bit and collaborate on something. I miss comedy terribly and I've really felt the effect of not being in Edinburgh. It's been really, really sad and really, really tough on a lot of people. I hope it safely finds its way back."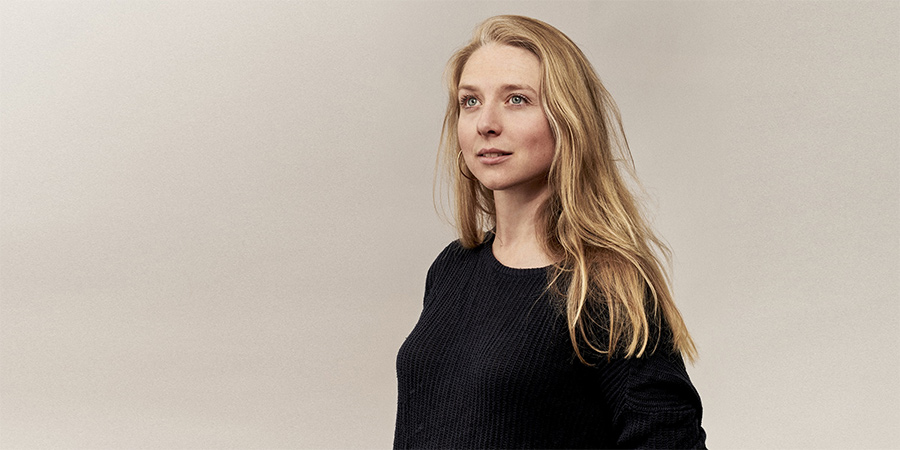 She is cautiously optimistic that the live circuit will return in rude health after various #MeToo revelations and diversity rows over the summer, that "we're moving into a place now where we have a language to communicate all these issues that everyone knew were there but didn't know how to express.
"Everyone knows what it means now when someone says they were #MeToo'd. You hope young women starting out feel more confident about calling shit out and saying this is not ok. People also feel better now about calling out a bill if it's only white people, asking the promoter to address it.
"Meanwhile, you've got Owen [Donovan] and Brid [Kirby], who are like these two tech nerds, two amazing live comedy producers and they've taken it upon themselves to man this ship, the Live Comedy Association, it's absolutely incredible. They're really putting diversity to the fore. So while I'm very worried about the finances of individual comedy clubs, I do hope and think that we'll come back stronger and in a better way."
She is also hopeful that Coming To England, a non-broadcast Channel 4 pilot from Asim Chaudhry in which she plays Sasha, the harassed PA of his obnoxious Indian billionaire Rupert Khan, could be picked up to series.
"That was one of my very, very last jobs before lockdown and it was just so lovely" she recalls. "It would be such a dream if it went ahead. He's so talented and also a really generous guy and performer. We basically just hung out as our two characters all the time, it was a real joy to work on. My fingers are crossed. But who's to say?"
Even if that series doesn't come to pass however, Coates has at least retained a costume from the 2012 Olympics opening ceremony, which she bought in an auction to perpetually inspire her.
"It's the most unflattering thing I own" she confesses. "A one-piece in Lycra with these flames coming off, it's absolutely awful. It's never been out of the house since I bought it but it gives me such joy. Every time I see it, I can't help but put it on. It's like The Mask" she laughs.
"Parading round the kitchen, it just makes you want to do a contemporary dance. Everyone tells me to take it off. But It's like the spirit of the Olympics lives through me when I'm wearing it!"
---
1908! Live Coverage of the 1908 London Olympic Games is available on podcast platforms including Acast and iTunes