We chat to Patrick Marber, who played a number of memorable characters in shows including On The Hour, The Day Today and Knowing Me, Knowing You... With Alan Partridge.
Hi Patrick. We feel like we know quite a lot about your thoughts already, having listened to your late night chats with Peter Curran on Radio 4's Bunk Bed. How much of that show is 'you'?
I'm really not sure where I end and 'he' begins. It's a very odd but enjoyable thing to do. Because it's improvised (and then edited down by Peter) we never know where it'll go and how intimate or truthful we might be from one recording to another.
The form of it is that the listener is eavesdropping on a private conversation between two friends so I think we both feel that it must always sound truthful. I mean, neither of us have ever told a story which wasn't true.
We've been re-watching The Day Today recently, as it's just had its 25 year anniversary. The real news is now almost as bonkers as the kind of things Peter O'Hanraha-hanrahan reported on?
Yes, sadly. President Trump, Brexit, T May, W R-Mogg, B Johnson are all beyond comedy imagination - certainly from 1994 point of view. How sweet and innocent (relatively) the world seemed back then.
The radio series Knowing Me, Knowing You... With Alan Partridge has just been released in a special vinyl collector's edition set. We love those episodes so much...
Thank you! I still like it, though I haven't heard it in full for two decades. It's primitive in places but I kind of like that too; Steve/Alan was still finding his feet and exploring how far he could push the character.
I've always loved Doon Mackichan's Simon Fisher interview, that voice she does! And then Dave Schneider is great as the outraged father of the child monster. I love Rebecca Front's Sandra Peakes and the rent boys. And I have to admit I do chuckle at Conrad Knight's socks and the unholy rudeness and then comeuppance of Lord Glossop.
What was it like working on that project? It must have been fun to take on different guises?
It was amazing. We wrote it as we went along, with 2 week gaps (I think) between recordings at the old Paris Studio in Lower Regent Street. The venue was beautiful and special - all the radio greats had played it, so it felt BBC official and like we were part of a long tradition just by being there.
It was very hard work and we did a lot of last minute rehearsing on the day. New ideas came so fast it was hard to keep track of which bit would go where. But it was made much easier by the cast. We all knew each other very well from On The Hour and The Day Today so there was a lot of trust and mutual support. It was one of the best times of my life. I'm very glad I wasn't too callow to appreciate that at the time.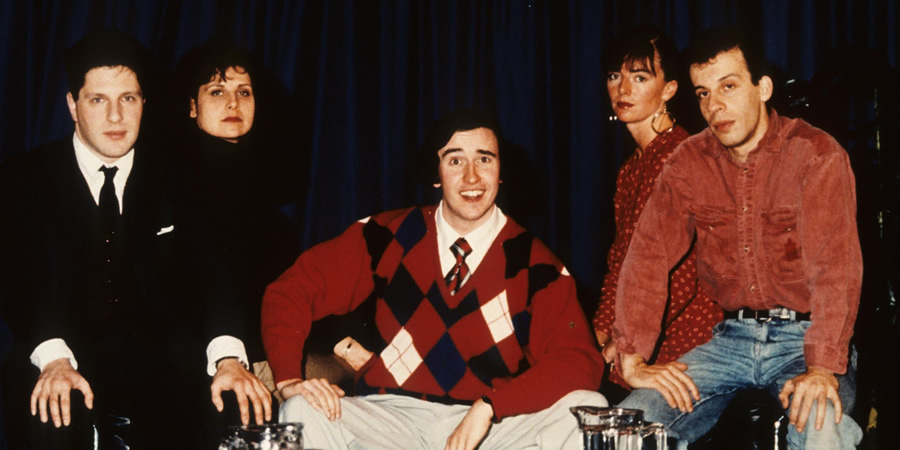 You make each of your characters very distinct. When growing up, was becoming a performer forefront in your mind, or did you just fall into acting?
Kind of you to say. I always wanted to write and perform. I wouldn't really call what I do or did acting. I did the stand-up circuit from 1987 - 1992 on and off and I loved doing voices and briefly inhabiting characters. I never wanted to stand on stage as 'myself'. I had no idea who that might be and I wasn't, at the time, much interested in finding out. So doing characters, hiding inside them, was what I was naturally drawn to. My range is limited but I'm quite effective within it.
Do you keep in touch with any of the other On The Hour / The Day Today gang? Do you think we might one day see another series of either?
We had a 25 year anniversary reunion of The Day Today team recently.
See tweet
We're all in touch and there's a lot of love between us. We all know how lucky we were to be in those shows and to work with each other for 4 or 5 golden years.
Alan Partridge is now back on the BBC, but this and his other recent projects have been written by a different team. Are you sad not to be directly involved with the character's development any more?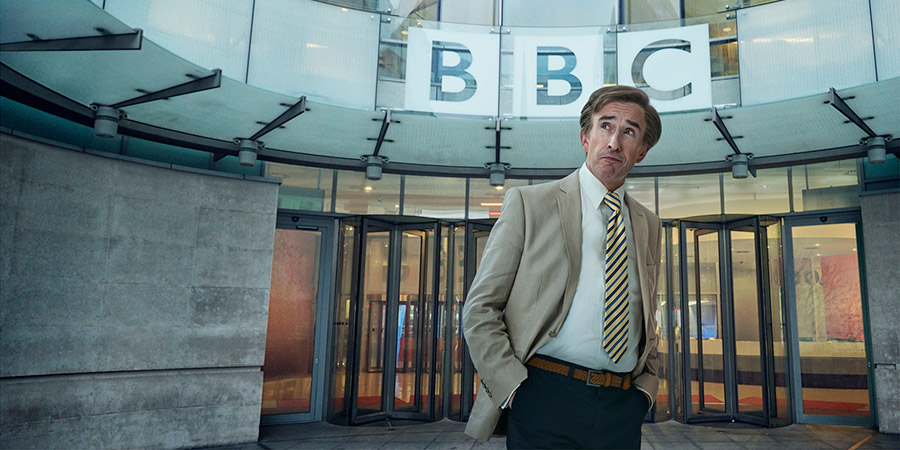 I am sad, but it's right. Alan needs a committed team around him. I can't give that amount of time - even if it was wanted.
Steve and I talk and he'll sometimes ask for my opinion on Alan things, and it's nice to feel a bit involved occasionally. But the Gibbons Brothers are really fantastically funny and inventive writers who need nothing from the likes of me - and I'm thrilled that Alan goes from strength to strength on their watch.
Would it be fair to say a lot of your passion is now focused on writing and directing theatre?
Yes. I love being involved with live performance. I love the work meeting an audience and the long preparation and engagement for that encounter. It gives me more of a buzz than working on TV or film. I like getting films made and I enjoy that process very much but it's a crapshoot these days. I don't really miss doing stand-up - I'm too creaky for late nights and days spent worrying about the gig - but if the theatre had no need for me anymore I'd be back on the old circuit like a shot.
Thanks Patrick. What's your plans for 2019?
A year of writing scripts I owe to various patient producers and maybe direct a play in the late winter.
---
Knowing Me Knowing You - The Complete Radio Series is available now as a Collector's Edition vinyl box set.
Available for the very first time on vinyl, Demon Records proudly present every ruddy word of Knowing Me Knowing You, the complete award winning BBC Radio 4 series (1993 Gold Award winner). This is the series that really introduced the cultural icon that is Alan Partridge to the mainstream, leading to his TV chat show, two series of I'm Alan Partridge, Mid Morning Matters, the Partridge movie Alpha Papa, and his subsequent return to the BBC in 2019. "I'm Alan Partridge, I am sports-casual"
First broadcast in December 1992, the series was written by Steve Coogan and Patrick Marber, featuring additional material from Armando Iannucci. "Welcome to Knowing Me, Knowing You. Knowing me Alan Partridge, knowing you - the you - the audience."
Includes all 6 episodes on coloured heavyweight 180gm vinyl, all presented in a ruddy marvellous lift-off-lid box featuring original artwork.
First released: Friday 25th January 2019
It looks like you're in the US? Fear not! Almost everything can still be ordered.
Amazon UK
deliver internationally,
Amazon.com
carries many items separately, or you can look out for US/Canadian flags on our product listings for direct links.
If ordering from a UK store, please note that you are in Region 1 (DVD)/Region A (Blu-ray), whilst the UK is in Region 2/B, respectively. This means that many - but by no means all - may fail to play. Look for products marked "Region free", "All regions", "Region 0" or "Multi-region". Blu-rays may also be marked "Region A/B/C", or variations thereof. You may also check whether your DVD/Blu-ray player supports multi-region playback (also referred to as "region free"), or whether it can be set to do so. There should, of course, be no problems with books, CDs, or other physical items.
More advice & help on importing
Published: Wednesday 27th February 2019