Frankie Boyle in Twitter row with X Factor finalist James Arthur
Frankie Boyle in Twitter row with X Factor finalist James Arthur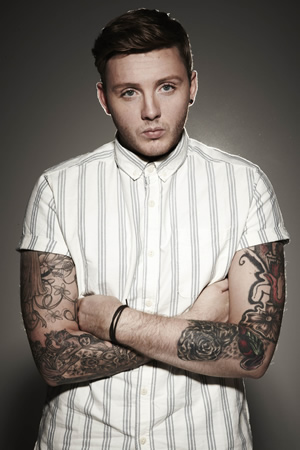 Warning: this story contains very strong language.
James Arthur (pictured), a finalist in the X Factor talent competition, and Frankie Boyle have exchanged some extremely strong words via the micro blogging website Twitter.
The altercation began after the Scottish comedian, well known for courting controversy, posted a comment about the 24 year-old singer's appearance.
On Saturday, during the X Factor show, Boyle tweeted: "James McArthur is like a cross between a tramp and a duckling #xfactor".
Boyle then posted two comments about the X Factor generally, saying: "Fuck it man, I'm going to play hiphop through the XFactor final. We've got to start diluting the shit they're feeding us." - and then, responding to replies from other users: "Don't tell me that I shouldn't watch X Factor. I DON'T WATCH IT. I know who's on every week & I tweet jokes about them while I read a book."
Arthur - who will be one of the three finalists in next weekend's X Factor final - appeared to see the comedian's tweet after midnight, and responded: "@frankieboyle Poor old man making yet more shit jokes about Xfactor because he knows that's the only way he can get attention any more #prat"
To which a few minutes later Boyle posted back in reply: "@JamesArthur23 I think if I wanted attention I'd sing covers on a talent show, inked up like a schooldesk in a remedial class"
Arthur, then responding to a follower's comment that "at least @frankieboyle didn't have to go on some talent show to get recognised", said: "true but I'd say he did a lot worse to get recognised wouldn't you? He's known for being a cunt..."
Another user of Twitter commented to Arthur "Atleast he has some talent....", to which Arthur responded "what you mean as apposed to telling desperately bad jokes? Perhaps you'd have gained more respect going my route".
The two then continued to argue directly. At 1:55am Boyle posted: "@JamesArthur23 "apposed"? I hope you didn't spell your own tattoos. I also hope Simon's demonic jizz boils through your vocal cords."
Arthur responded after 2am: "Your about as funny as aids.. Your a sad man and I can't wait to see you coz it's about time someone gave you a reality check"
Boyle then picked up the argument again Sunday morning, tweeting a reply at at 10:55am saying "Comedians make jokes about tits singing karaoke songs on talent shows you snaggletoothed grammar holocaust. Deal with it."
Then, last night at 8:35pm, during The X Factor Results Show, Boyle resumed, tweeting: "James Arthur looks like someone put a sheep's teeth into a baby's head #Xfactor".
Arthur started up the argument again at 2:04am Monday morning, replying to Boyle with the following three comments:
"have you seen the state of you? How can you make remarks about the way I look? Stop using my name to try rekindle your career"
"and making jokes about people on tv shows is one thing but you make jokes about people with disabilities which is a disgrace"
"one last thing.. I wanna meet you and see if I don't fuck you up on behalf of many that hate you. Your children must be proud!"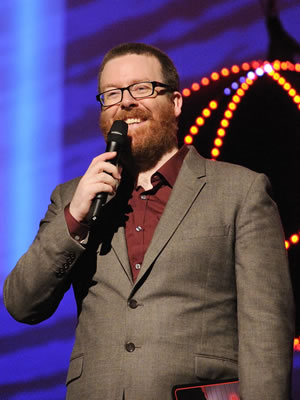 Boyle responded "Get a sense of humour you pompous alien-headed busker."
Boyle also included in this last tweet a link to a YouTube video featuring the character of Lotney 'Sloth' Fratelli from the 1985 film The Goonies.
Frankie Boyle (pictured) has caused controversy in the past with jokes about people's appearances. Perhaps most notably, the BBC Trust investigated Mock The Week after the comedian made a joke about Olympic swimmer Rebecca Adlington's facial features.
The Scottish comedian has also hit the headlines before for things he has written on Twitter. In August, his jokes about the Paralympic Games caused controversy, and were reported as being responsible for an apparent 'axing' of the comic from Channel 4 (full story).
In October Boyle was awarded over £54,650 in damages after a high court jury found he had been libelled by the Daily Mirror. The paper had incorrectly labelled him a racist, and falsely claimed that he had been forced to quit Mock The Week.
Share this page