Phil Clarke named new Head of Comedy at Channel 4
Phil Clarke named new Head of Comedy at Channel 4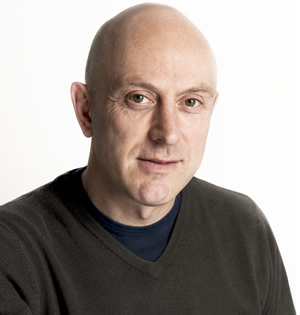 Objective Productions exectuive Phil Clarke (pictured) has been named as Channel 4's new Head of Comedy.
Jay Hunt, Channel 4's Chief Creative Officer, announced the news of the appointment this morning. The network has been looking for a new Head of Comedy since Shane Allen, who previously held the post, announced he was moving to the BBC to become the corporation's Comedy Commissioner earlier in the summer.
Clarke currently holds the position of Head of Comedy and Entertainment at Objective Productions, the production company behind programmes including Peep Show, Parents, John Bishop's Britain and Comedy Central's forthcoming sitcom Big Bad World.
He started off his career as a producer at the BBC, working in both radio and television, before becoming Editor of Comedy for Talkback Productions, overseeing as Executive Producer much of the company's comedy output from the late 1990s, including Bo' Selecta! and Never Mind The Buzzcocks. He also produced many comedy shows for Talkback, including Big Train and the controversial Brass Eye paedophilia special.
Clarke set up Objective Productions' comedy department in the spring of 2003, after producing the first series of Peep Show in 2002, and has since acted as Executive Producer on all of the company's scripted comedy output.
Objective and Channel 4 have long enjoyed close ties, with the production company responsible for many of Channel 4's popular comedy series. Aside from Peep Show (now the channel's longest running sitcom, which returns for an 8th run on Sunday), Objective is also behind titles including Fresh Meat, Lee Kern's Celebrity Bedlam, The Mad Bad Ad Show, Meet The Parents, Pete Versus Life and Robert's Web, across both Channel 4 and its digital station E4. The company has also made pilots including Felix & Murdo, Kabadasses, Milton Jones's House Of Rooms and Toast Of London, for the network's Comedy Lab and Comedy Showcase pilot strands.
Andrew Newman - who was C4's Head of Comedy before Shane Allen - is currently Objective's Chief Executive.
Phil Clarke will officially join the channel in the New Year, where he will head up a slate of current and forthcoming shows, including Bad Sugar, Derek, Man Down and The Mimic. He will also oversee new talent initiatives like 4Funnies and Comedy Blaps, and have the task of commissioning brand new comedy series for the network.
Talking of the appointment, Jay Hunt says: "Phil has been behind some of the biggest comedy hits on British TV. He is brilliantly creative and will be a strong, thoughtful leader for the Channel 4 comedy team."
On the topic of joining Channel 4, Phil Clarke adds: "Channel 4 has an outstanding comedy heritage, so I'm honoured and delighted to be joining the creative commissioning team."
According to a previous report by Broadcast Magazine, other TV executives believed to have been in the running for the position included BBC Executive Producer Jo Sargent, Objective Productions producer Ben Farrell, Tiger Aspect producer Ben Cavey, and Channel 4's Comedy Commissioning Editor, Nerys Evans.
Evans, who has been operating as Acting Head of Channel 4's comedy department since the departure of Shane Allen, has been promoted to Deputy Head of Comedy with immediate effect.
Below is a video in which some of Channel 4's comedy stars interview each other:
Share this page