Stephen Merchant gets 8-part American sitcom series
Stephen Merchant gets 8-part American sitcom series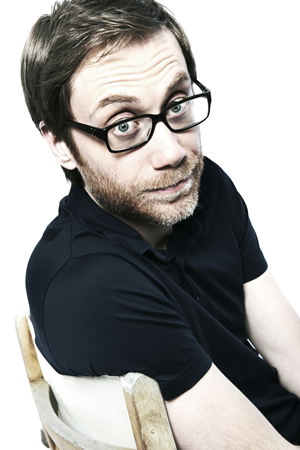 Stephen Merchant looks set to become a star in America, as acclaimed cable network HBO has ordered a sitcom series built around his comic persona.
The Bristolian comedian - who has previously co-created The Office, Extras and Life's Too Short alongside Ricky Gervais - will star in 8 episodes of Hello Ladies.
The sitcom, loosely based on the premise of Merchant's 2011 live stand-up tour of the same name, will see the tall comic playing an Englishman looking for love in Los Angeles, and observing as "his attempts to infiltrate the world of beautiful people are not successful."
Merchant regularly plays up to his image as being unsuccessful with women. For example last month, joking about the iPhone's automated female voice, he wrote on Twitter: "Attitude from Siri when I cancelled writing a text. She said 'Ok, forget it then!' Now failing to charm virtual women as well as real ones."
A non-broadcast pilot episode of the comedy was filmed in July, and now The Hollywood Reporter has confirmed that HBO executives, working alongside Disney-owned ABC Studios, have ordered a full series of the show.
Hello Ladies is being written by Merchant alongside Lee Eisenberg and Gene Stupnitsky. The American duo have previously acted as writer-producers on the US version of The Office, created the hit movie Bad Teacher, and have a hand in the upcoming Ghostbusters 3 story.
The pilot episode starred US actors Christine Woods, Nate Torrence and Kevin Weisman alongside Merchant, and it is expected that all three will take part in the series too.
Merchant will already be fairly well known to viewers of HBO, as the network also has screened Extras, Life's Too Short and The Ricky Gervais Show.
Hello Ladies is scheduled to air in the autumn of 2013 in the USA. No details have yet been announced about a UK broadcast, but it is expected that a British network will acquire the rights to show the series in the winter of 2013.
Merchant is not the only British comedian currently working on an American sitcom project. As reported last month, Rob Brydon is working on a sitcom pilot called The Valleys in which he plays a Welshman who arrives in LA by accident but soon decides that he will stay.
Here is a clip from Merchant's Hello Ladies DVD and Blu-ray release:
Share this page