Eric Sykes dies aged 89
Eric Sykes dies aged 89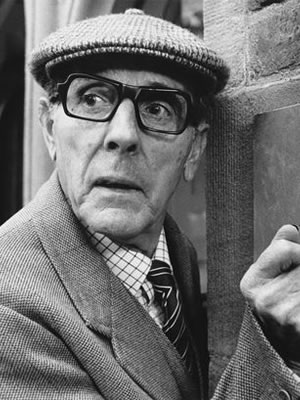 British comic actor, writer and director Eric Sykes has died at the age of 89.
His manager, Norma Farnes has released the following statement: "Eric Sykes, 89, star of TV, stage and films, died peacefully this morning after a short illness. His family were with him."
The comedian had a wide-ranging career but is probably best known for the long-running and highly successful sitcom Sykes And A.... The black-and-white TV series saw Sykes playing an accident-prone man who lives with his identical twin sister (Hattie Jacques) in East Acton. The show ran for nine series between 1960 and 1965, and was revived in colour as Sykes for a further seven series between 1972 and 1979.
Sykes was also a major talent behind-the-scenes as a script writer, and across his career created scripts for many other stars, including Frankie Howerd, Peter Sellers and Stanley Unwin.
One of the most popular comedians of his generation, Sykes was still acting well into his 80s. In 2005 he appeared in Harry Potter and the Goblet of Fire and in 2007 made guest appearances in New Tricks, Heartbeat and My Family. His last TV role was in Agatha Christie's Poirot in 2010.
Born in Oldham in May 1923, Sykes served as a wireless operator in the Royal Air Force from 1941 until after the end of World War II. Like many comics of his generation, he was introduced to show-business during this wartime service and, upon leaving the forces, he met up with Bill Fraser, a friend from his RAF days who was enjoying some success on the London stage. Fraser asked Sykes to write some scripts for him and before long Sykes was writing for BBC radio shows including Educating Archie and The Goon Show.
Sykes was also the creative force behind The Plank, a dialogue-free slapstick comedy film that is now regarded as a classic of the genre. The comic wrote and directed both a 1967 50-minute film version of the format, and a half-hour 1979 TV special remake. They were based on Sykes and A Plank, an episode from his sitcom.
In 1952 he married Canadian Edith Milbrandt, with whom he had one son and three daughters. He was awarded an OBE in 1986, and elevated to CBE in 2004.
Sykes' huge success appears all the more remarkable when considering that he had been almost completely deaf since his early 30s, and suffered with extremely poor eyesight for much of his life too. The horn-rimmed spectacles which would become his trademark look were in fact a sophisticated hearing-aid enabling him to sense vibrations.
Jon Plowman, the former BBC Head Of Comedy, paid tribute to Sykes this morning, saying "We won't see his like again. He was a wonderful improviser." He added: "His genius was both as a scriptwriter but also someone who could do stuff off the cuff. He was classless and funny and warm."
Sykes has previously said comedy was "a calling", explaining: "I don't ever stop. Even when I'm in the bath or shaving, my brain is going like an express train, thinking up funny things."
Taking to Twitter this morning, Stephen Fry wrote: "Oh no! Eric Sykes gone? An adorable, brilliant, modest, hilarious, innovative and irreplaceable comic master. Farewell, dear, dear man."
Here's a clip of the classic bath tub scene from Sykes And A...:
And here's Tommy Cooper appearing with Sykes in The Eric Sykes 1990 Show:
The following version of The Plank is a 44-minute cut of 1967's film, again starring Tommy Cooper:
Here's some additional coverage from BBC News...
Share this page