Armando Iannucci awarded OBE
Armando Iannucci awarded OBE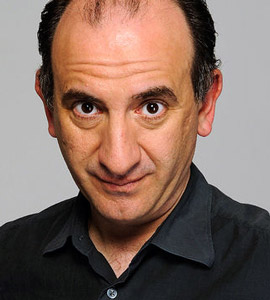 Prolific comedy writer and producer Armando Iannucci has been awarded the OBE - Officer of the Order of the British Empire - in the Queen's Birthday Honours List 2012.
Born in Glasgow to an Italian father and Scottish mother, Iannucci receives the honour for services to broadcasting. The brains behind hit political satire The Thick Of It, he told BBC News that he hoped it was "not an attempt by the government to stop me because that's not going to happen".
Iannucci's career now spans three decades, having begun producing programmes on BBC Radio Scotland in the early 1990s. However, it is his work with comedians such as I'm Alan Partridge star Steve Coogan for which Iannucci has become best known, and arguably most praised.
As well as co-writing, directing and producing I'm Alan Partridge and The Thick Of It, which he also created, Iannucci's long list of credits include titles such as Time Trumpet, Lab Rats, In The Loop, Stewart Lee's Comedy Vehicle, Genius, The Day Today, On The Hour, and The News Quiz.
Following the news Iannucci was accepting the OBE, Tony Blair's former spin doctor Alastair Campbell entered into a war of words with the comedian on Twitter. He tweeted "So @AIannucci OBE joins the Establishment he claims to deride. Malcolm Tucker and I do not approve of the honours system". The full exchange can be seen below: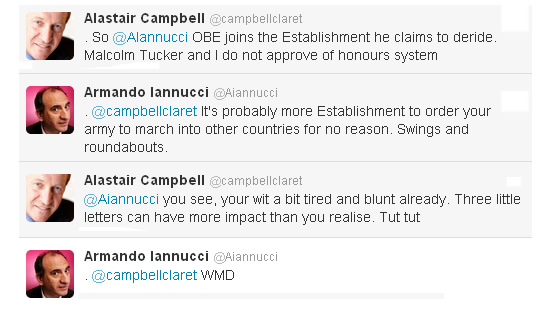 Share this page