Fry & Laurie to reunite for new project
Fry & Laurie to reunite for new project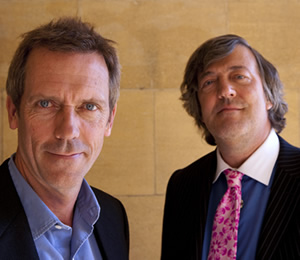 Stephen Fry and Hugh Laurie are set to reunite for a new project. However, details on what the duo will be doing together are currently unknown.
Fry tweeted today: "Hugh Laurie and I are cooking up a project together. We will be working again soon. Sorry to be mysterious but more news when I can."
Hugh Laurie has just finished filming the final series of hit US medical drama House. The show, which has been running on the Fox network since 2004, has made Laurie the highest paid actor on US television with a wage of $700,000 (£434,467) per episode, and he has recently recorded a critically-acclaimed blues album.
However, following the end of the hit series, the star now looks set to return to the UK.
Best known for A Bit Of Fry & Laurie, Jeeves And Wooster and appearing on screen together in other shows such as Blackadder, Fry & Laurie last appeared together in a 2010 one-off special on UKTV GOLD.
Fry And Laurie: Reunited (pictured) was a 90 minute TV special to mark the 30th anniversary of their partnership. The programme saw the double act reminiscing about their friendship, careers and sketches.
Speculation is already rife as to what the duo's new project together will be. It is not yet clear whether it will even be for television, but fans of the duo will be hoping for a new comedy project. Other classic shows like The Fast Show and Alan Partridge have been re-born online under sponsorship deals from Foster's lager, whilst the UKTV portfolio of channels is bringing back classic sitcoms like Red Dwarf and Yes, Prime Minister.
One of Fry & Laurie's sketches - involving the idea of privatising the police force - has recently been doing the rounds on the internet again. See it below:
UPDATE: 18th May 2012. The project the duo are working on together is an animated 2014 film adaptation of The Canterville Ghost, the short story by Oscar Wilde. Fry will play the ghostly presence of Sir Simon de Canterville and Laurie his nemesis.
Share this page