New French and Saunders sitcom
French & Saunders developing new sitcom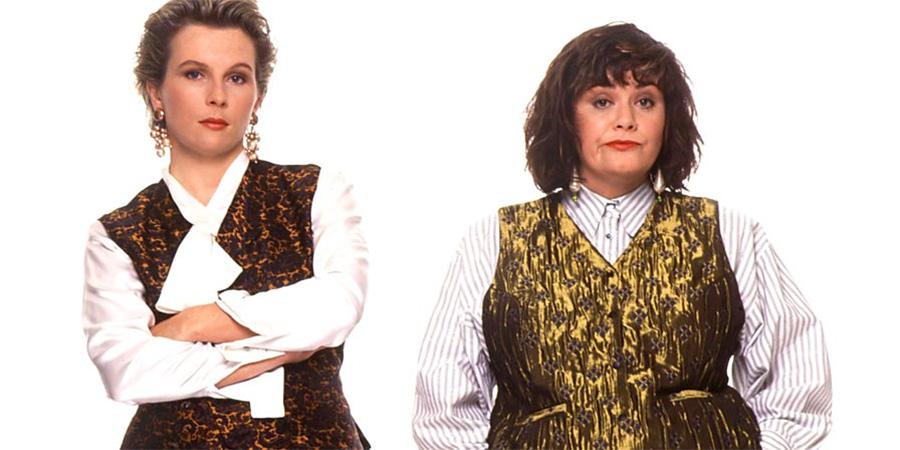 Dawn French and Jennifer Saunders are working on their first sitcom together for more than a decade.
French revealed the as-yet-untitled project in an interview the pair gave to Zoe Ball on her Radio 2 breakfast show this morning, along with a new live tour that she's writing for next year and details of her next book.
The disclosure came as French shared some of her previously rejected sitcom ideas. These include one in which the pair were Elton John's "fag hags", another in which they were aspiring time travelling spinster sisters who oppose gentrification and a third that she proudly declared anti-feminist when she conceived it.
When Ball asked her if she was writing another book, French, who published her fourth novel, Because Of You, last year, replied: "[Yes but] it won't be a fiction this time. I'm going to write a book which contains lots of letters to various things in my life that I completely adore. Or don't. So I'm in the middle of doing that."
Her last live show, 30 Million Minutes, ran from 2014 to 2016, and she revealed: "I'm trying to write a tour for next year when theatres are properly open and I can get back out on tour", before adding, "And Jen and I have been talking about a sitcom that we might write together, so there's lots going on."
The last sitcom French & Saunders appeared in together was the women's institute comedy Jam & Jerusalem, which ran for three series on BBC One between 2006 and 2009. Written by Saunders and Abigail Wilson, the cast included Sue Johnston, Sally Phillips, Joanna Lumley, David Mitchell, Pauline McLynn and Rosie Cavaliero.
However, the last sitcom that the double act wrote together - sharing scripting duties with Ruby Wax - was ITV's Girls On Top. Running for two series in 1985 and 1986, it starred the trio alongside Tracey Ullman and Joan Greenwood.
More recently, French had a cameo role in Absolutely Fabulous: The Movie when it was released in cinemas in 2016, whilst she and Saunders co-star in Kenneth Branagh's forthcoming feature film adaptation of Agatha Christie's Death On The Nile. Currently scheduled for a February release, Saunders plays socialite Marie Van Schuyler and French her nurse Miss Bowers, alongside Branagh as Hercule Poirot, with Gal Gadot and Russell Brand also in the cast.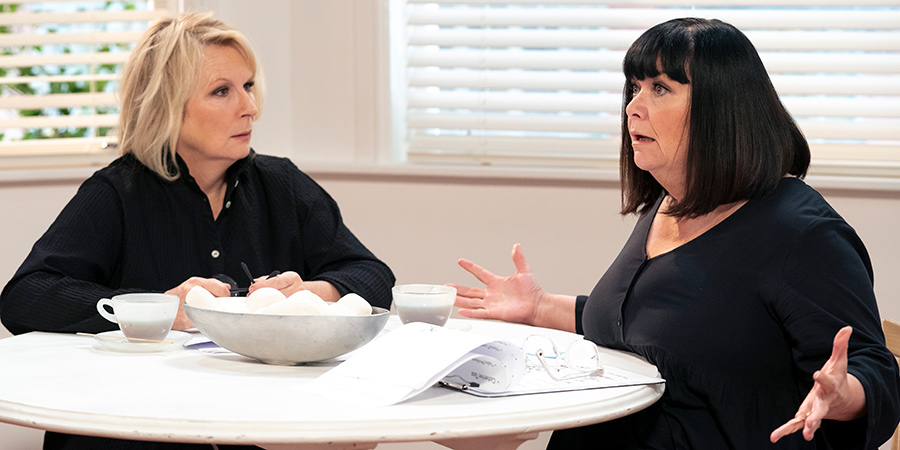 After presenting Funny Women: French & Saunders, a celebration of the funniest women in comedy on Gold last month, the pair were speaking to Ball to promote the second series of their podcast Titting About, available to download from Audible from today.
In the final episode of the latest series, entitled If We Were Still Funny, they discuss their love of sitcom and share some of their ideas from the 1980s that were never commissioned.
Hailing Steptoe & Son, Fawlty Towers, Dad's Army and Motherland, plus US sitcom pioneers Lucille Ball and Mary Tyler Moore, as well as her and Saunders's corseted cleavage in the 1999 BBC One French Revolution sitcom Let Them Eat Cake, French reflected on the importance of her character, the Reverend Geraldine Granger, for The Vicar Of Dibley.
Reading from an old notebook of sitcom ideas, she shared an entry for a six-part anthology series in which they would have written three of the episodes and "invited" Wax, Victoria Wood and Bread creator Carla Lane to write the others. "How dare I?" she confessed.
"Each half-hour is a complete story of its own" she continued. "The common factor with all of them is that they are centred around two female characters, e.g. a mother and daughter, two flatmates. Each story should be like a short film with the emphasis on funny as opposed to feminist."
"Oh my God, that's shameful!" Saunders guffawed. "I have notebooks too full of this crap!"
Another rejected idea proposed a sitcom or sketch "set in Elton John's house with David Furnish, also featuring George Michael, Boy George and a Christmas tree", noting that they would have referred to John's husband as "Mr David Furniture" as they implored the pop stars to let them be their "fag hags".
Saunders took this opportunity to admit her regret at a cruel line she had uttered to John in character as Edina in Ab Fab: The Movie, after he'd specifically asked her to take it out of the script.
French also recalled another sitcom idea that never saw the light of day, based on her aunts.
Goodness Gracious Great Balls Of Wool would have featured "two fusty old West Country sisters, Maud and Dot, living in a village that's struggling to retain its original character against the onslaught of modern development on its outskirts" she recalled.
"They're both spinsters and have devoted their lives to celebrating Britain's rich tapestry of history by sewing period costumes from every age.
"However, as night falls, they sneak into their basement to work on their major clandestine project: they are crocheting a time machine."
---
For updates, click the buttons below.
Share this page