Romesh to host Weakest Link
Romesh Ranganathan to host Weakest Link
Quiz show Weakest Link is to return to the BBC with Romesh Ranganathan as the new host
He says: "It's an honour to be asked to bring what is basically a TV institution back to our screens"
12 new episodes are set to be filmed shortly for BBC One, featuring celebrities playing for charity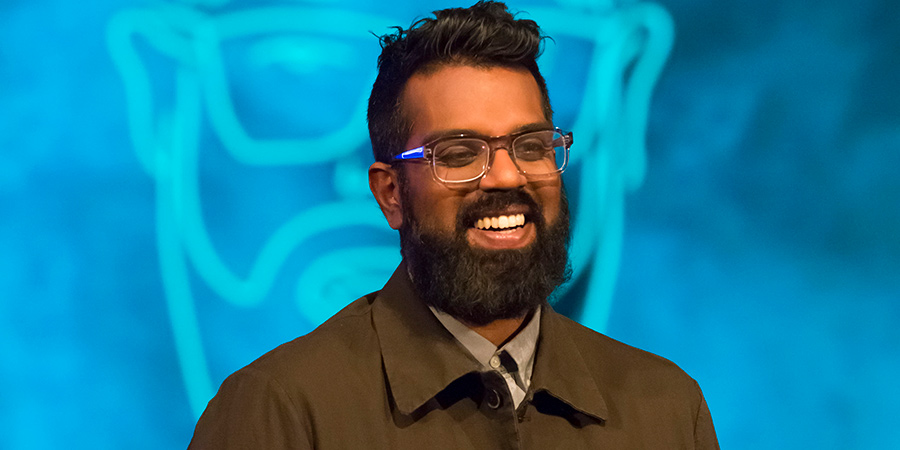 BBC One has revealed that Romesh Ranganathan will be the new host of Weakest Link, as the quiz show returns to television for its first new series since 2012.
Originally hosted by Anne Robinson, the quiz format begins with a team of nine contestants, who take turns answering general knowledge questions within a time limit to create chains of correct answers. At the end of each round, the players then vote one contestant, "the weakest link", out of the game.
The programme, which launched in 2000, became an instant hit. It went on to run for more than 1,000 episodes, ending in 2012.
Its new incarnation will see celebrities playing instead of members of the public, aiming to win money for charity.
The BBC confirms: "Made by BBC Studios Entertainment, each episode of Weakest Link will see celebrity contestants answering general knowledge questions before only two remain and play head to head to determine the winner. Brand new host Romesh Ranganathan will take the reins, seeing the celebrities do all they can to try and avoid elimination and emerge victorious, all in aid of their favourite charities.
"Since making its debut in 2000, Weakest Link went on to become one of the BBC's most successful international franchises, with versions of the show airing in over 100 countries across the globe. The UK version last aired in 2017, with a special charity episode in aid of Children In Need."
Romesh Ranganathan says: "It's an honour to be asked to bring what is basically a TV institution back to our screens. Anne was an amazing host and to step into her shoes is an anxiety-inducing privilege. I'm hoping we've found a way to make both the fans of the show happy as well as bringing a new audience to it. If not, accept this as my apology."
Kate Phillips, director of entertainment at the BBC, comments: "Weakest Link has always been a firm favourite with audiences and Anne Robinson was a terrific and formidable host. I can't wait to see Romesh bring his own unique style of presenting to one of TV's most memorable roles."
Suzy Lamb from BBC Studios adds: "It's hugely exciting to be bringing back one of the world's most successful quiz shows to BBC One. Anne was a brilliant host for many years and with Romesh taking the reins it's going to be incredibly funny and as fiery as ever. The team can't wait to get started."
Anne Robinson is set to appear as the new host of Channel 4's words and numbers quiz Countdown as of today.
The new series of Weakest Link will consist of twelve 45-minute episodes. Filming is set to begin in Glasgow soon, for broadcast on BBC One later this year.
Ranganathan is set to be prolific on TV and radio in the latter half of 2021. He has been announced as the new host of A League Of Their Own, will present a Radio 2 hip hop series, fronts new series The Misinvestigations Of Romesh Ranganathan for BBC Two, returns for more episodes of Rob And Romesh Vs this July, and is set to present another series of his topical show The Ranganation.
---
For updates, click the button below.
Share this page