Simon Pegg adapts Galaxy Quest
Simon Pegg adapting Galaxy Quest for television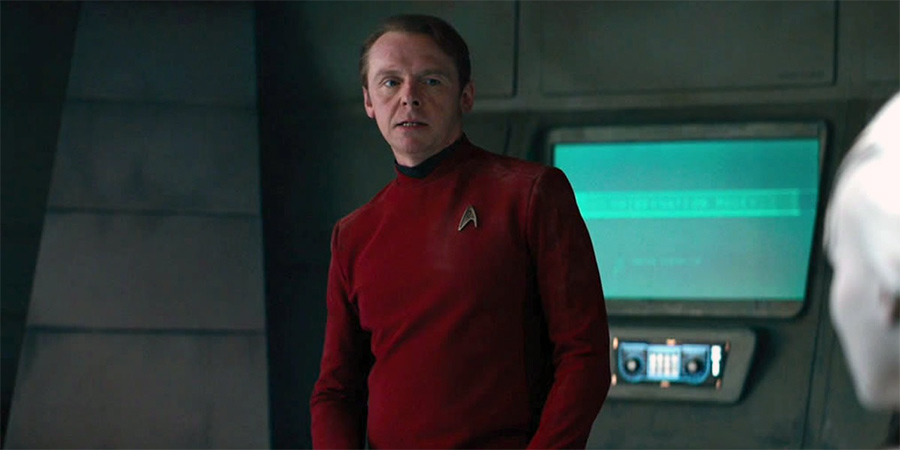 Simon Pegg is adapting Galaxy Quest for television.
The Star Trek star and writer is working to transfer the cult Trek spoof to the small screen with The Thick Of It and Succession writer Georgia Pritchett.
Starring Tim Allen, Sigourney Weaver, Alan Rickman, Sam Rockwell, Tony Shaloub and Daryl Mitchell, the 1999 sci-fi comedy focused on the stars of a defunct television series set in space, who encountered real aliens that believed it to be a documentary, drawing them into an interstellar conflict.
Paying homage to pop culture fandom, a preoccupation throughout Pegg's career, Galaxy Quest was a modest box office success but has been embraced by Star Trek fans since and grown in popularity since its DVD release.
In January, Allen revealed a potential storyline for a long-mooted sequel to the film that focused on his character, Jason Nesmith, who played Peter Quincy Taggart, captain of the N.S.E.A. Protector, and Rickman's Alexander Dane, aka the alien Dr Lazarus - complicated by Rickman's death in 2016.
"It's a fabulous script" the Toy Story and Home Improvement star told Entertainment Weekly. "But it had a hiccup because the wonderful Alan Rickman passed. So it all got very sad and dark because [the script] was all about [Lazarus] and Taggart. It was all about their story. It doesn't mean they can't reboot the idea ... the underlying story was hysterical and fun."
Allen also disclosed that the next chapter of Galaxy Quest could feature "light-speed space travel time dilation", which might place the crew of the Protector in a different timeline than Earth.
And he added that "there is constantly a little flicker of a butane torch that we could reboot it with. Without giving too much away, a member of [Alan Rickman's] Galaxy Quest family could step in and the idea would still work ... But right now it's in a holding pattern."
Pegg, who is rumoured to be reprising his role as the USS Enterprise's chief engineer Montgomery "Scotty" Scott in the latest Star Trek film sequel, set for 2023, wrote 2016's Star Trek Beyond with Doug Jung, having previously written and starred in the 2011 alien conspiracy theorist comedy Paul with his long-time collaborator Nick Frost.
Pritchett, who has been working on the second series of Armando Iannucci's space tourism comedy Avenue 5, revealed the Galaxy Quest adaptation in an interview with The Times yesterday to promote her memoir My Mess Is A Bit Of A Life, out next week, and her forthcoming dark comedy mini-series for Apple TV+, The Shrink Next Door, starring Will Ferrell and Paul Rudd.
The Veep scribe, whose other credits include Spitting Image, Have I Got News For You, Smack The Pony and Miranda, also revealed that she is writing a stage musical about Grayson Perry with Richard Thomas, composer of Jerry Springer: The Opera, and reuniting with Veep star Julia Louis-Dreyfus for a new television comedy featuring a cast of 19 women.
Sexual equality is arriving belatedly in British comedy she told The Times, thanks in part to female writer-performers such as Sharon Horgan who won't put up with being "either the nag or the slag". But progress has been slow she added. "Over here men in dresses is still considered good sitcom, so I don't think it has changed that much, but I hope it will."
Meanwhile, Frost has revealed that he and Pegg are planning to shoot their horror-comedy Svalta imminently.
The film, which follows a family on their summer holiday to a remote Swedish island where they discover a serial killer on the loose but no locals interested in helping them, was acquired by Orion Pictures in 2019 from Pegg and Frost's production company Stolen Picture (Out Of Her Mind).
Frost has written the screenplay with James Serafinowicz and Nat Saunders, who previously worked with him and Pegg on their 2020 Amazon Prime horror-comedy series about paranormal investigators, Truth Seekers.
Last week, Frost told People Just Do Nothing stars Allan Mustafa and Hugo Chegwin on their Chattin' Shit podcast that they hoped to shoot Svalta, named after the fictional island it's set on, "this year".
---
For updates, click the buttons below.
Share this page