Joe Lycett rubbish bins book
Joe Lycett to publish glossy coffee table book of bins
Joe Lycett is working on a photographic collection called Bins, Bins, Bins
The publication will feature his favourite photos of waste disposal
He said: "I have spent hours of my life wandering about, photographing bins and getting a lot out of it"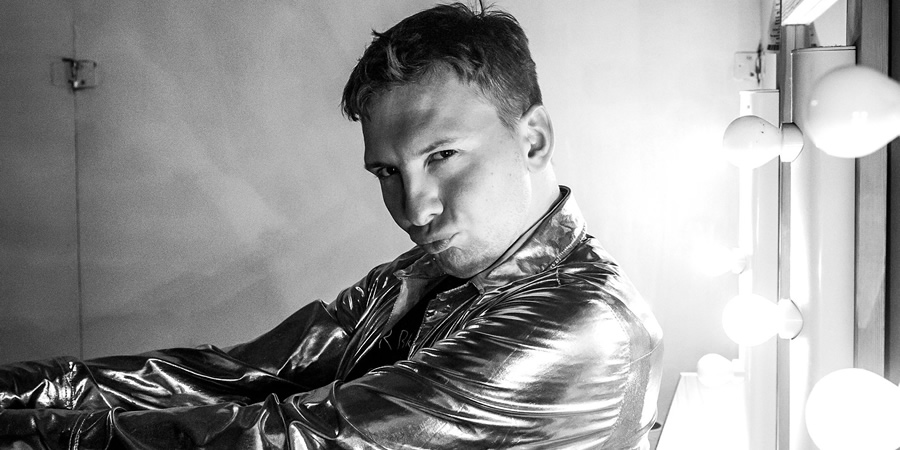 Joe Lycett is to publish a book about his "obsession"... rubbish bins.
With the working title Bins, Bins, Bins, the glossy coffee table tome will collect together the comic's artistic studies of waste disposal.
Featuring a foreword by a binman, the book is set to be released later this year, although the publisher has yet to be revealed.
Lycett was inspired to photograph bins while making his upcoming episode of Who Do You Think You Are?
near Cambridge last summer, when he was filmed for a "bucolic scene" in the countryside next to "a giant, and I would argue, beautiful bin" he told photographer Jonathan Daniel Pryce on his Photographic Memory podcast.
"The director of photography was amazing ... he clearly knows what he's doing and he saw that and thought there could be a good shot of Joe driving past that with a bin in the background.
"And I was just looking at the bin thinking: 'I can totally see why he loves that, it's beautiful framing, everything about it's lovely'. So I took a photo ... and I've always wanted to make a coffee table book. And I thought 'this could be the thing'. Because it's weirdly compelling and yet everyone's surrounded by them constantly and yet we all kind of ignore them.
"When I've not been writing jokes or recording podcasts, I have spent hours of my life wandering about, photographing bins and getting a lot out of it, really enjoying that process. I'm now obsessed with bins."
To date, Lycett has taken thousands of photos of bins, curating some on an Instagram page.
However, "the people I'm making the book with think about 80 bins is about right for it" he told Pryce. "I'm at 96 and I really don't want to lose the other 16. It's like killing your babies but killing a bin. It's so absurd, it's hell."
Lycett concluded a 2013 email to his then MP, Roger Godsiff, complaining about his opposition to gay marriage, with the blunt sign-off "empty my pigging bins". This was reproduced in his first book, 2016's Parsnips Buttered, and he admitted that he was struggling to narrow down his favourite subjects.
"I'll come back to the studio having done another day of bin photo taking, [thinking] 'oh, there's at least three there I want to include.'"
The former graphic designer and keen painter, who is currently making a third series of Channel 4's consumer watchdog show Joe Lycett's Got Your Back and can be seen on screen presenting The Great British Sewing Bee on BBC One, added that "one of the appeals of bins is I'm into block colours, bold, solid shapes and bins are often that.
"And they're often really pleasing shapes with nice curves... you don't see shapes like that in the natural world... some bins have faces as well. There are some that are really funny-looking and have got character, literally, because you can make out eyes and a mouth.
"One of my favourites - I maybe took three shots of it - the way the sunlight caught it shows this big streak of dog piss along the side of the bin. There's this beautiful line of sunlight. And then piss ... there's just something wonderful about that ... it sounds like madness as I talk about it."
Lycett joked that his follow-up collection would be called International Bins. "That means I can go on so many tax-deductible holidays, because as long as I take one photo of a bin, it's a business trip darling!"
However, the comic, who has directed music videos and was shooting a short film, Lights, in his native Birmingham last week, also made a passionate defense of comedy as an artform. He told Pryce that "the next special I do I'd like to be filmed really nicely and have a really nice aesthetic to it, maybe film it on a Arri Alexa [camera] rather than on some old Sony.
"Comedy has been put in a box. And what I've been massively disappointed by for years is how the Arts Council and all of the awards, from the Oscars down, just see comedy as 'what's the point of that?'
"Yet I think that it can be arguably the most powerful of the arts because the minute you're laughing, you're engaged in a way that you're not in a lot of other mediums. You're registering with a truth and you're having fun, you want more of it. It's addictive."
By way of illustration he pointed to the consequences of him temporarily changing his name to Hugo Boss on Got Your Back, shaming the fashion label over its intimidation of smaller businesses that shared its name.
The stunt "got huge global news and really pissed them off" he recalled. "And it's a joke, a joke did that essentially. That's all it was and people laughed at the joke and liked the joke and that made a multi-billion dollar corporation have to put out a statement, go into talks with companies, have to do a whole PR push, because of a joke. And if you can get that right, you can do extraordinary things."
---
For updates, click the button below.
Share this page