Ricky Gervais podcast
Ricky Gervais to launch new podcast
Ricky Gervais has revealed he is launching a new podcast in which he chats to neuroscientist Sam Harris
Absolutely Mental will focus on "being human", and look at topics such as free will, evolution and religion
Filming on Series 3 of After Life begins later this month. He said: "I think it's the best script I've done"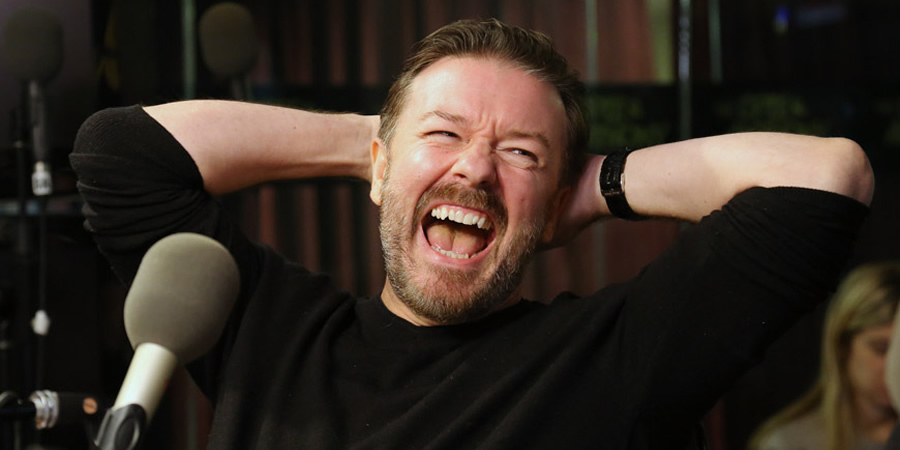 Ricky Gervais is launching a new podcast about "being human".
Absolutely Mental will feature the comic in conversation with American neuroscientist Sam Harris.
The pair have recorded approximately 12 episodes on the subjects of "free will, dreams, morality, mortality, human evolution, religion, the meaning of life, comedy, free speech, altruism and kindness, what makes us, where we're from, where we're going, the future, philanthropy and artificial intelligence, so everything about what we worry about" Gervais told his YouTube channel.
"It's mainly about the brain and the mind" he added. "It's great, Sam Harris just knows everything ... We've both got philosophy degrees, we've both got a background in science. He obviously went further than me, he's a neuroscientist ..."
The platform and launch date for Absolutely Mental has yet to be announced.
Gervais, whose The Ricky Gervais Show podcast with Stephen Merchant and Karl Pilkington was one of the first internationally popular podcasts in the early 2000s, attracting more than 300million downloads, more recently hosted the radio-podcast show Ricky Gervais Is Deadly Sirius for the US satellite broadcaster Sirius XM, in which he chatted to other comics.
The stand-up has become an increasingly frequent guest on Harris' Critical Thoughts podcast over lockdown.
Filming on the third series of his Netflix sitcom After Life - which won Best Returning TV Sitcom and Comedy Of The Year in the publicly voted Comedy.co.uk Awards this year - begins later this month Gervais informed his YouTube channel.
"I think it's the best script I've done but that means nothing because it's subjective" he said. "But I'm happy at the moment, I can't wait to do it, every scene I look forward to. Every day is a fun filming day. So yeah, on paper and in my head, it's really good already, I can only ruin it.
"We've got lots of returning people [in the cast], the ones that aren't dead of whatever ... and we've got new regulars and so many characters now. But the dog does not die. There you go, that's your spoiler."
Here's a clip of Gervais and Harris discussing comedy on Critical Thoughts:
---
For updates, click the button below.
Share this page