Lost Voice Guy Geordie accent
Lost Voice Guy finds his Geordie voice
Lee Ridley - who performs stand-up as Lost Voice Guy - is getting a new voice
After received more than 500 applications, he picked actor Dan Pye to re-voice his communication aid
Ridley says: "I was overwhelmed by the response", adding "Dan's voice was the one that I kept coming back to"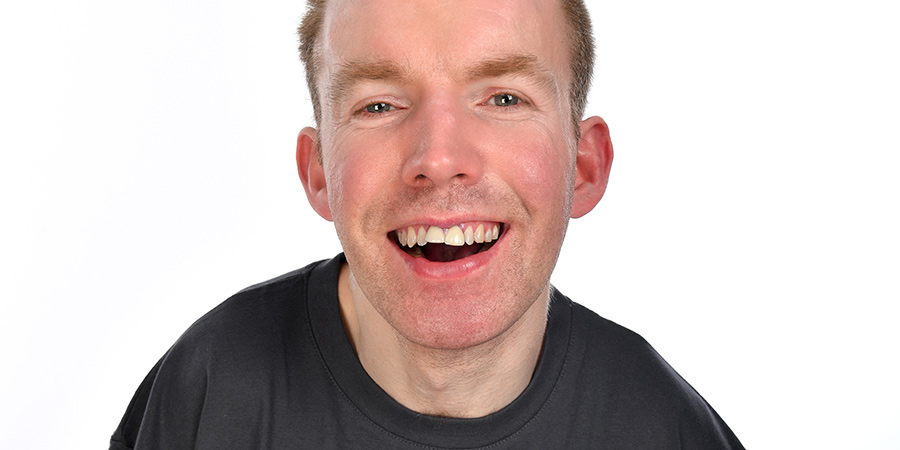 Lost Voice Guy has found a new voice, after a competition to find him a genuine Geordie accent.
The former Britain's Got Talent winner, aka Lee Ridley, came to fame with the robotic voice of his communication aid. But it will now be reprogrammed so he can sound like the rest of his family.
The comic, who hails from Consett in County Durham, received nearly 500 applications to provide a new voice for speech technology experts to sample.
And now, the winner has been revealed... actor and voiceover artist Dan Pye, also from County Durham, whose credits include working as a continuity announcer for Channel 4.
"I've always wanted a Geordie accent" Ridley told the BBC's Morning Live show today. "I don't think my current voice represents where I'm from. And it isn't exactly the voice that I would have had if I wasn't disabled.
See tweet
"To be honest, there's nothing wrong with my current voice except for the fact that it sounds very posh. It sounds like I should be reading the shipping forecast on Radio 4. And of course, most ladies love a Geordie accent.
"Competition was very tough indeed. In fact, I was overwhelmed by the response from my fellow Geordies and it made the job of choosing the right voice very difficult. But, in the end, Dan's voice was the one that I kept coming back to."
Pye added: "I spend my life as a voice actor, voicing commercials and things that don't exist, things that are in a fictitious world, so being able to voice a human being that's kind of something I guess that all voice actors maybe think that they're never going to be able to do and it's incredible to be able to provide that for Lee."
He will be recorded by Edinburgh-based speech synthesis company CereProc, who specialise in making artificial intelligence voices sound more human.
Ridley admits that he's worried about losing his established voice, which he controls with an iPad.
"I've had the same voice for most of my life and it's part of me now, so it's going to be a big change" he said. "And, of course, everyone recognises it as my own voice, so it's going to be strange to sound different. I do think that swearing in a posh voice is much funnier though."
Ridley will employ Pye's voice when he embarks upon his postponed Cerebral LOL-sy stand-up tour next year. In February, he revealed to British Comedy Guide that he is developing a television adaptation of his Radio 4 sitcom Ability with BBC Studios.
In 2018, he made the BBC Three documentary Is Geordie The Funniest Accent? (below) and has made several appearances on The One Show, meeting other people who have lost their voices and are choosing a synthesiser.
Ridley, who has cerebral palsy, was left unable to talk after he developed the brain inflammation encephalitis when he was six months old.
---
For updates, click the button below.
Share this page