Arthur Smith's Syd
Arthur Smith writing book and Radio 4 special about his father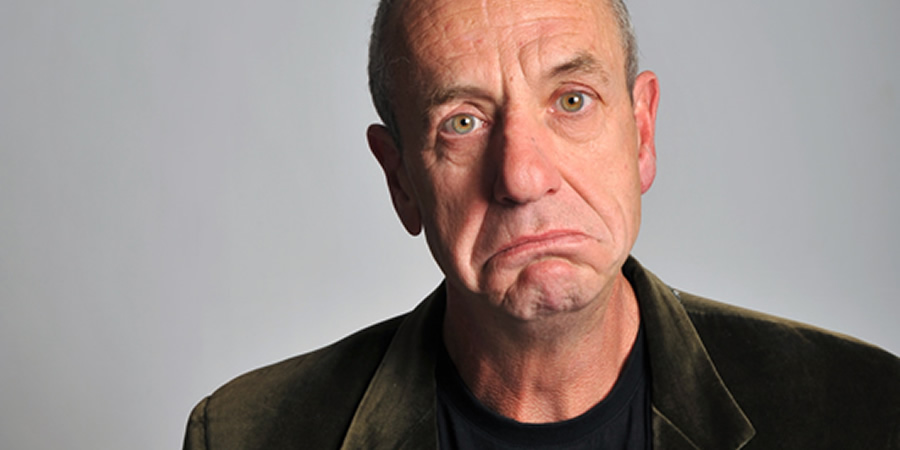 Arthur Smith is turning his late father's life story into a Radio 4 special and book, British Comedy Guide can exclusively reveal.
Both the half-hour stand-up show and the book, which has the working title My Dad Was In Colditz, and will be published by Little, Brown, grew out of Smith's 2018 Edinburgh Fringe show, Syd.
That in turn was inspired by his father's own memoirs, which he wrote down for his family in 2004, shortly before he died, about his World War Two exploits and experiences as a police officer in the 1950s, patrolling London's Southbank.
Conscripted at 18, Syd Smith fought in the slaughter of the Second Battle of El Alamein in Egypt in 1942 and was captured, paraded through the streets of Palermo, then almost starved to death toiling as slave labour in a Saxony copper mine. He was later incarcerated in the notorious Colditz Castle, with his experiences subsequently informing his compassionate approach to policing.
"He'd been a prisoner, he knew what it was like" Smith told BCG of his father's disinclination to make arrests unless he absolutely had to. Only about a third of Syd's 25,000 word life story is taken up with the war, as he had "a lot of good copper stories too", including talking a suicidal girl down from Waterloo Bridge, reluctantly arresting a doctor for cottaging who then propositioned him, as well as meeting Haile Selassie.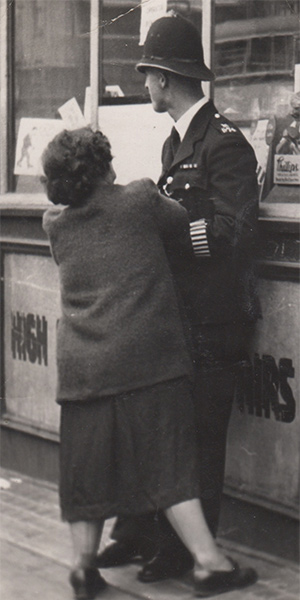 Smith's grandfather, who had also been a policeman, was briefly assigned to royal protection and invited to dinner with the Emperor of Ethiopia, taking Syd with him. "That meant that when he later became a jailer at Camberwell Magistrates Court, when they had to arrest Rastafarians, my dad would always try to impress them by telling them he met Selassie" Smith recalls.
Syd's life featured "quite a few love stories in one way or another" the comic reveals, though "obviously, not while he was in Colditz. Although I did wonder what the gay goings on might have been that no-one ever talked about. Because you know a bunch of men all cooped up together, obviously there must have been some things.
"He had what I call the world's most romantic holiday romance. This was in 1947. After the war, he'd signed up for another couple of years in the army and then, just before he was demobbed, he got given a week's leave in Venice where he had an intense affair with an Italian woman in a white bikini, just for a week or something. And then she tried to get to see him afterwards but she wasn't allowed into the camp, he never saw her again and often wondered what had become of her.
"There's quite a few tales like that, from before he met my mother, obviously. If he had any after he didn't talk about them! Yeah, there's quite a few ladies feature in his book."
Smith and Syd made the 1993 BBC Radio Five documentary, My Dad Was In Colditz, in which he accompanied his father to his former jail, having never got the opportunity to abscond from it during the war.
"By the time he got there the war was coming to an end and there was only one escape. Besides, it was only the officers who were allowed to escape and he was just a private. He was there to look after the prominenti, characters like Sir Douglas Haig's son, Lord Lascelles and various posh people who could potentially be used as hostages by the Germans. It was his job to wipe the arse of Old Etonians, just as we continue to do so today."
Smith will feature in the book, but "I want it mainly to be his story. Obviously, I'll talk about when we went back to Colditz and what I've learned from him, maybe how he died. So I will be present but in the background I hope."
Meanwhile, the comic recently recorded a podcast pilot, Mister Smith And Ms Margolyes, in which he interviews Miriam Margolyes about "anything and everything".
The "empathetic, perceptive, wise and hilarious" comic actor accompanied Smith on a 2006 episode of his Radio 4 show Sentimental Journey, in which they travelled to Belarus to trace her ancestry.
He recalls it fondly. "Her ancestors had fled before the war, being Jewish, so we went back and found out what her granddad would have been like and where he lived, this funny little village. God, they'd had a hard time. We met the last Jew in this town because all of the rest had been deported and killed. So I spent nearly a week in Belarus with her initially. We kind of had a rapport.
"But it's hard not to have a rapport with her. We're hoping to talk about different subjects each week. I'll pitch questions at her and see how she responds, then we'll discuss it. I hope it happens because she's a great laugh".
Meanwhile, there are talks happening about "maybe" reviving An Evening With Gary Lineker, the Olivier Award-nominated stage play about the 1990 Football World Cup written by Smith and Chris England, which became a 1994 ITV drama starring Caroline Quentin, Clive Owen and Paul Merton.
And Smith speaks optimistically of appearing at this year's Edinburgh Fringe, having been forced to cancel last year's promenade show at the last moment because of coronavirus guidance.
"I'll be up there if I can, yes" he states. "We shall see, obviously. There's talk of doing shows in tents with the flaps open and whatnot. But I'm almost certainly going to be doing another outdoor show where I take people round as a tour guide."
---
For updates, click the button below.
A book by Arthur Smith, inspired by his father's own memoirs.
First published: Thursday 7th July 2022
It looks like you're in the US? Fear not! Almost everything can still be ordered.
Amazon UK
deliver internationally,
Amazon.com
carries many items separately, or you can look out for US/Canadian flags on our product listings for direct links.
If ordering from a UK store, please note that you are in Region 1 (DVD)/Region A (Blu-ray), whilst the UK is in Region 2/B, respectively. This means that many - but by no means all - may fail to play. Look for products marked "Region free", "All regions", "Region 0" or "Multi-region". Blu-rays may also be marked "Region A/B/C", "Region free", or variations thereof. You may also check whether your DVD/Blu-ray player supports multi-region playback (also referred to as "region free"), or whether it can be set to do so. There should, of course, be no problems with books, CDs, or other physical items.
More advice & help on importing
Share this page