John Cleese emu film
John Cleese writes emu film with Rob Schneider
John Cleese and US comedian Rob Schneider are working on a new film called The Great Emu War
The comedy focuses on the real-life story of how Australia tried to annihilate its emu population in 1932
Speaking on The One Show, Cleese confirmed: "We just finished the script"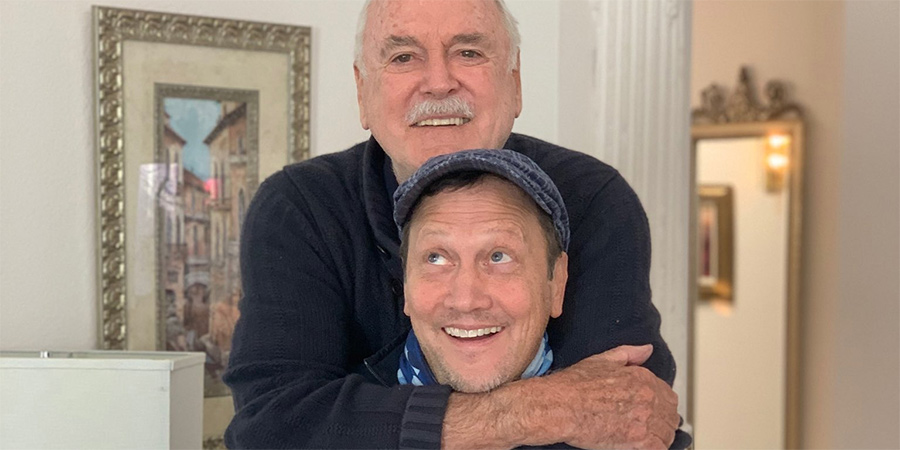 John Cleese has written a film with Deuce Bigalow star Rob Schneider... about Australia losing a war with emus.
Already lauded for a dead parrot sketch, the Python is currently in Arizona, where Schneider lives, after the American actor invited him to collaborate on the comedy, which is based on Australia's largely unsuccessful attempt in 1932 to cull its crop-destroying emu population with machine guns.
"We just finished the script" Cleese told the BBC's One Show last night of the film, which will star Saturday Night Live alumnus Schneider as one of the exterminating army officers. "It really happened, they tried to kill them and they couldn't even kill them. It's a very funny idea, so that's why I'm here".
Schneider has been developing The Great Emu War with Australian stand-up Monty Franklin since at least 2018, and is planning for it to be released in cinemas next year.
Cleese and Schneider performed a stand-up show together in Phoenix in January. And the American has enthused about collaborating with his "comedy hero", adding that "getting to work with this comic genius has been the thrill of a lifetime."
See tweet
Cleese has returned the compliment. Speaking to local news station FOX 10 Phoenix ahead of that live show, he likened their writing partnership to the one he enjoyed with Graham Chapman. The pair have created "a very funny character" for Schneider in the film he revealed, "which is a bit like an English sergeant major".
"Who's yelling the whole time" Schneider added. "John's great though, because if he likes something the enthusiasm jumps out. But if he doesn't like it, he says 'umm, that's crap!'"
Inspiring a globally recognised internet meme and a couple of computer games, the "emu war" was notorious even in its own time in Australia, with some contemporary estimates suggesting that only 50 of the flightless birds were killed in the campaign, which was commanded by Major G. P. W. Meredith of the Seventh Heavy Battery of the Royal Australian Artillery.
Ornithologist Dominic Serventy noted: "The machine-gunners' dreams of point blank fire into serried masses of Emus [sic] were soon dissipated. The Emu [sic] command had evidently ordered guerrilla tactics, and its unwieldy army soon split up into innumerable small units that made use of the military equipment uneconomic. A crestfallen field force therefore withdrew from the combat area after about a month."
Meredith himself admitted: "If we had a military division with the bullet-carrying capacity of these birds it would face any army in the world... They can face machine guns with the invulnerability of tanks. They are like Zulus whom even dum-dum bullets could not stop."
The Emu War has already been the subject of a spoof film trailer by Australian comedy outfit Hot Dad Productions in 2018:
Cleese was appearing on The One Show to promote his involvement in the BBC's ongoing Festival Of Funny, with Fawlty Towers being made available on the iPlayer from March 15, albeit with some racist language used by Major Gowan in The Germans episode removed.
The Festival was originally meant to include Cleese's 2019 stand-up show Live At The Acropolis, a recording of his Last Time To See Me Before I Die show, which the 81-year-old has been performing since 2013. But this was quietly dropped without explanation from the season at the start of this month.
You can see a version of that show from a 2013 performance in Edmonton, Canada, here:
---
For updates, click the button below.
Share this page