London Hughes film
London Hughes to star in Hollywood film Hot Mess
Universal Studios is making a film starring stand-up comedian and actor London Hughes
Hot Mess will be loosely based on the comedian's own life story
It is the latest US project for Hughes, ahead of her Netflix stand-up special's release on 22nd December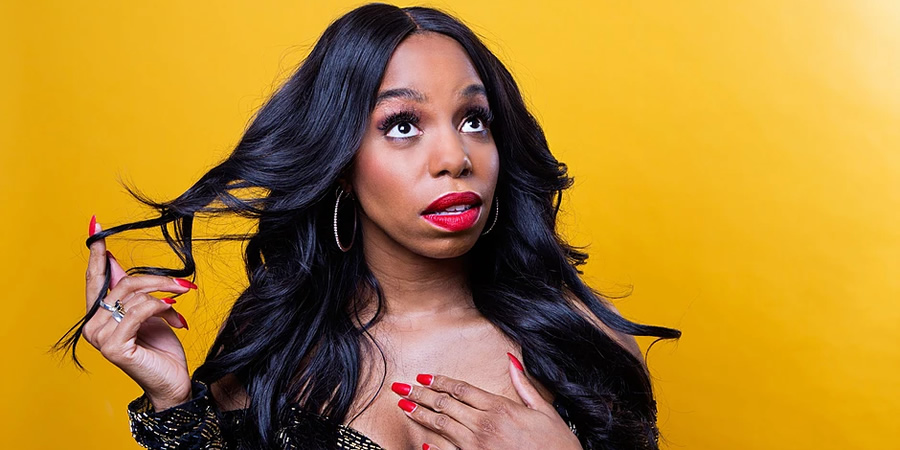 Stand-up comedian and actor London Hughes is to star in a new movie developed by Universal Studios.
The plot details for Hot Mess have yet to be revealed, however it is known to be based on the comedian's own life story. Hughes is working with writer Noushin Jahanian on the script.
Hughes posted on Twitter: "So beyond happy to announce that I AM STARRING IN MY OWN MOVIE. It's called Hot Mess. It's from the makers of Girls Trip and it's loosely based on my life!!!!"
Will Packer and James Lopez, who have previously made films such as the Ride Along franchise and TV documentary series Blackballed, are acting as producers on the project.
Hughes, who was nominated for Best Show in the 2019 Edinburgh Comedy Awards, has moved to America to pursue career opportunities there. She has previously spoken about how there are not enough opportunities for black performers in the UK, and how the British broadcasting system put barriers in the way of writers and performers.
Hughes says: "Will Packer and James Lopez are my LA Fairy God-Dudes! James was one of the first executives I met when I got to the States and he immediately believed in me. I'm beyond excited for the world to see what we've been up to."
James Lopez says: "After witnessing London's first performance of her one-woman show in the States, I knew I had to be in business with her. We are thrilled to be working with London and Noushin on this project and look forward to audiences experiencing their edgy brand of humour."
Hughes is set to release her Netflix special worldwide on 22nd December.
London Hughes: To Catch A D*ck has been executive produced by Kevin Hart and sees the comedian talking about relationships. The blurb explains: "London is confused. She's awesome, successful, attractive, and has no gag reflex and yet.. somehow, incredibly single... how on earth has that happened?! In this hilariously provocative, empowering show, London will explore the complete mystery of why the world is full of desirable, brilliant but single women - who definitely don't need a man but wouldn't mind the option."
She will also appear in History Of Swears, the Netflix series in which Nicolas Cage documents the history of swearwords, and is a co-host on the new format The Netflix Afterparty.
Further details about Hot Mess will be revealed in due course.
---
For updates, click the button below.
Share this page