Eddie Izzard endurance gigging
Eddie Izzard announces a month of marathons and gigs
Eddie Izzard will undertake A Run For Hope, his latest endurance challenge, every day in January
The comedian will run 26.2 miles on a treadmill then perform an hour of stand-up, which people can watch online
Raising money for Make Humanity Great Again, he says: "There is too much talk of division in the world"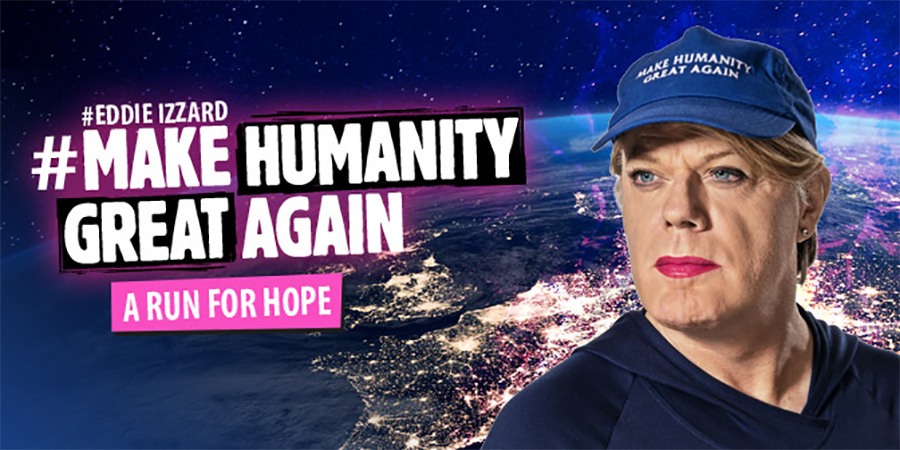 Eddie Izzard has announced his latest marathon challenge, A Run For Hope, combining endurance running with endurance gigging.
Beginning on New Year's Day, the comic will be running 26.2 miles on a treadmill every day of January, then jumping straight off to perform an hour-long gig every night.
Still Standing will be a "best of" performance of some of his greatest material from almost four decades in stand-up, including Death Star Canteen and Monkeys in Trees but "remixed for 2021", he told Chris Evans on his Virgin Radio show.
The shows will be streamed live online to a global audience from Riverside Studios in London, in aid of his charitable initiative Make Humanity Great Again.
Izzard raised £140,000 running 29 marathons all over Europe in February. And his latest physical challenge will see each of his epic runs themed around a different European or world city.
He will be joined by surprise guests and is asking fans to watch the event online, running "virtually" with him live in cities across the continent, joining the audience for his daily comedy shows, and donating.
Izzard said: "There is too much talk of division in the world. Too much talk designed to pull us apart. In my life I try to look for the opposite - to look for what brings us together, which helps make us all stronger. Working together feeds the spirit that can restore the greatness to humanity.
"Make Humanity Great Again stands for unity, the sharing of beliefs and the power of human beings uniting across the continents and around the world. As a campaign it seeks to promote a fair chance in life for all, particularly those who experience disadvantage and discrimination. It speaks to people who believe there is more goodwill than ill-will in the world, who believe in the positive qualities of humanity and in the Golden Rule - to treat other people the way you would like to be treated yourself."
Instead of Still Standing, on 23rd of January, following the marathon for Berlin, Izzard will perform his show Wunderbar in German. Similarly, on the 28th, after the Paris marathon, he will perform Wunderbar in French.
Izzard ran 27 marathons in 27 days across South Africa in 2016 as a tribute to Nelson Mandela, raising £2.6million for Sport Relief. He had previously run 43 marathons in 51 days through England, Wales, Northern Ireland and Scotland in 2009, raising £1.8million for the charity.
Izzard will be previewing his solo performance of Charles Dickens' Great Expectations at the Riverside Studios from December 21st to the 23rd.
---
For updates, click the button below.
Share this page