Nina Conti memoir
Nina Conti is writing a memoir with her puppet Monkey
Ventriloquist Nina Conti has revealed that she is writing her autobiography
The memoir will alternate between her memories and those of Monkey
He has "a far more interesting voice to write in" she told Adam Buxton on his podcast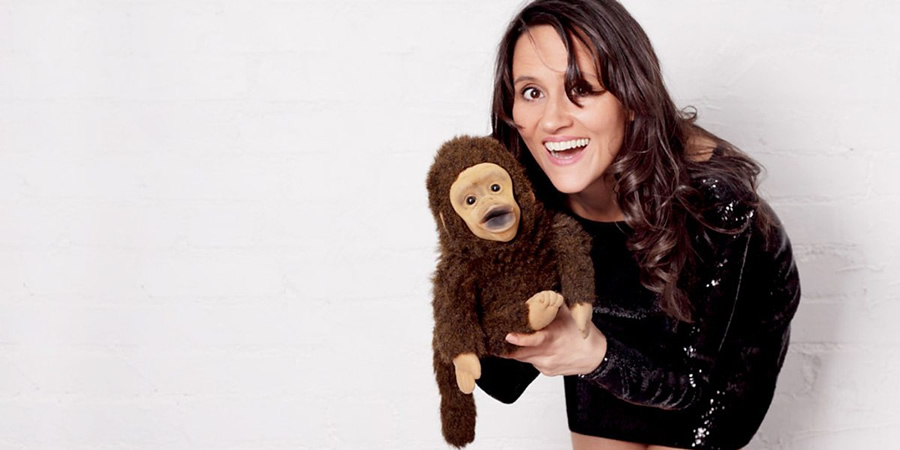 Nina Conti is writing a memoir... with her puppet Monkey.
The ventriloquist has disclosed that she's writing an "autobiography in two voices".
Monkey has "a far more interesting voice to write in" she told Adam Buxton on his podcast.
The simian puppet, which is Conti's best-known dummy, "actually seems to have insight from whatever corner of my brain he sits in and his perspective, it's much better than [mine alone, where] you'd end up with a kind of rubbish diary" she said.
"So I have to sit and channel him for a minute, when it's getting all girly and diary-ish. I have to go 'wait, let him [adopts Monkey's voice]', and let Monkey's voice take over."
British Comedy Guide understands that the currently untitled book is at an early draft stage and that Conti's management are seeking a publisher.
Conti also told Buxton that "a lot of stretches with the writing, it feels like I'm in a hurry to tell someone everything as they're walking away. And I think that person who's walking away is me. I just want to get it down before I walk away. But Monkey's always a much calmer one to write in, so that's the idea of the thing."
Later in the interview, she stressed that she doesn't suffer the degree of mental health problems her act suggests.
"I very much flirt with that idea of me being mad and layered" she said. "I use that a bit much, to the point that therapists, or just people who think they can help me, will come and say 'are you ok? ... it looks like you're really struggling.'
"No! It's design. I'm really using that and really celebrating that. I am actually ok. But you can't say that without seeming like you're not."
It seems particularly true of her improvised online comedy, The Therapy Tapes, currently on its second series, in which she and Monkey visit a therapist, played by Adam Meggido.
"Especially my Therapy Tapes online, people really think those are real" she said. "And I'm quite glad that people think they're real. They feel near-the-knuckle. They feel like what my life would be like if I was really only with a monkey all the time.
"People in the comments section are like 'this is sick, this shouldn't be comedy, she needs help', all that. There's so many of those comments. I read them and think 'I've got to put that person straight, I'm fine'. And then I think 'no, no actually, it's probably what you were aiming for, that grey area. Just leave it out there.'"
Nevertheless, Conti admitted that she genuinely discusses with her actual therapist what Monkey might say in specific situations.
"So it does seems like there's a good access to a sub-conscious level of thoughts, that that tool has brought about" she reflected. "I don't know what came first. It can't have just been there all along and I picked Monkey up and suddenly it spoke. But maybe. I don't know."
Elsewhere in the interview, she discusses her relationship with her mentor and erstwhile lover, the late theatre-maker Ken Campbell; how her determination to prove fellow comic Daniel Kitson wrong drove her to succeed with her act; David Bowie's visit to her ninth birthday party; and her experience of making the 2012 documentary Her Master's Voice, which won a prestigious Grierson Award for its depiction of her transporting the late Campbell's dummies to the Vent Haven Museum in Fort Mitchell, America, a resting place for the puppets of dead ventriloquists.
---
Share this page