London Hughes Netflix special
London Hughes to record Netflix special
London Hughes is to record a Netflix special of her To Catch A D*ck stand-up show
US comedy star Kevin Hart will act as an executive producer on the project
She has also revealed "I'm writing my next special, called To Catch A Husband"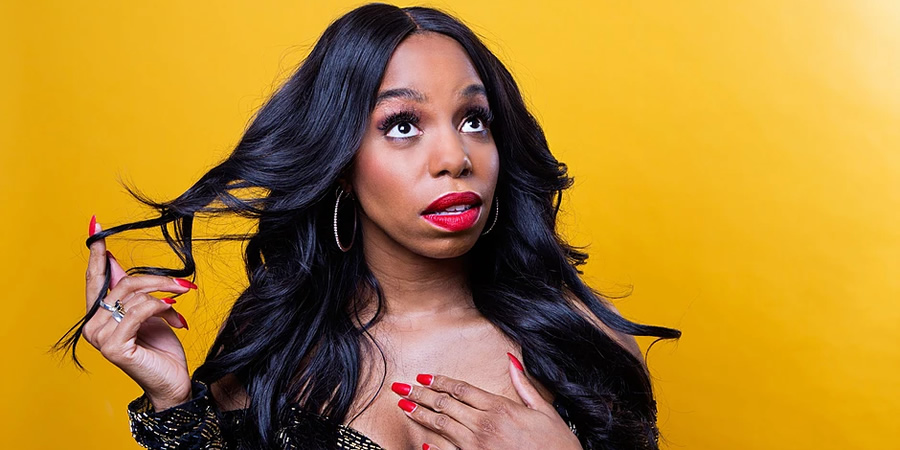 London Hughes is to release a Netflix special in time for Christmas and is already writing a follow-up.
A recording of her Edinburgh Comedy Award-nominated To Catch A D*ck stand-up show was supposed to take place earlier this year, with US arena comic Kevin Hart executive producing, but it was postponed because of coronavirus.
"We were supposed to record it in March but Covid hit" she told David Selley, in the guise of his alter-ego Diane Chorley, on podcast Chatting With Chorley. "We're still recording it this year, we're trying to find ways to do it that's Covid-friendly... Netflix want it to come out around December, around Thanksgiving, Christmas time."
The Los Angeles-based stand-up, currently writing a semi-autobiographical sitcom for the NBC network with former Daily Show correspondent and Insecure co-creator Larry Wilmore, also revealed she's begun work on her next special, inspired by her experience of dating again after months of celibacy.
"I haven't got with anyone this year, because I read somewhere that Lady Gaga, when she's making an album, she doesn't have sex because men steal her energy," Hughes told presenter Laura Whitmore on her Dating Hall Of Fame podcast. "I was like, that's very cool, I am so Gaga-esque, I'm going to attempt this.
"So I was like I'm working in LA, I've got all these projects coming out, I won't get with a guy until my Netflix special comes out." But then the coronavirus pandemic struck: "And I was like, 'oh my God, all this time I was pretending to be Lady Gaga and not getting with guys and now I can't physically get with guys'. And now I feel sorry for past me. And all the dick I missed out on.
"I'm writing my next special, called To Catch A Husband, so I'm working on dating. But it's hard because we're all in a pandemic and everyone's in the house."
Hughes is about to perform her first stand-up show in more than six months, opening for Hart at a "secret" gig. This is believed to be a taping of a show in Los Angeles on an unspecified date, after the American comic and film star appealed directly to fans on his social media for them to apply to be in the audience.
"When Kevin rang me, he blew my mind," Hughes told The Daily Telegraph in January, discussing filming To Catch A D*ck for a then-undisclosed US broadcaster. "He said: 'I love you. You're a star. I'm a train. You're gonna get on the train and I'll drive you to stardom.'"
And in a post on Hughes's social media two days ago, from Universal Studios, she again hinted at further yet-to-be announced projects.
"I've always been so open and honest about my career every single step of the way so my UK supporters must feel like it's weird that I've just fucked off to America, I'm not coming back to the UK any time soon, and I'm posting LA pool selfies all day lol [sic]
"But the reality is, soooo soooo soooo much is happening, there's so much going on that I contractually can't talk about which is KILLING ME because you lot know I can't keep a secret, but please understand that I'm working HARD and you will soon see everyyything I've been up too! [sic]
"Unfortunately I won't be appearing in any UK shows this year, but I'll soon be able to let you know why ? ...I guess what I wanted to say is, watch this space, all will be revealed and thank you so much for rocking with me this far! You won't be disappointed!"
---
For updates, click the button below.
Share this page