Victoria Wood statuettes
Victoria Wood statuettes on sale
Scale 10" mini-statues of Victoria Wood are now available to buy - at £1,500 each
The bronze models are being sold to raise funds for a full-size 6'6" version
The proper memorial statue will be unveiled in Wood's home town of Bury in May 2019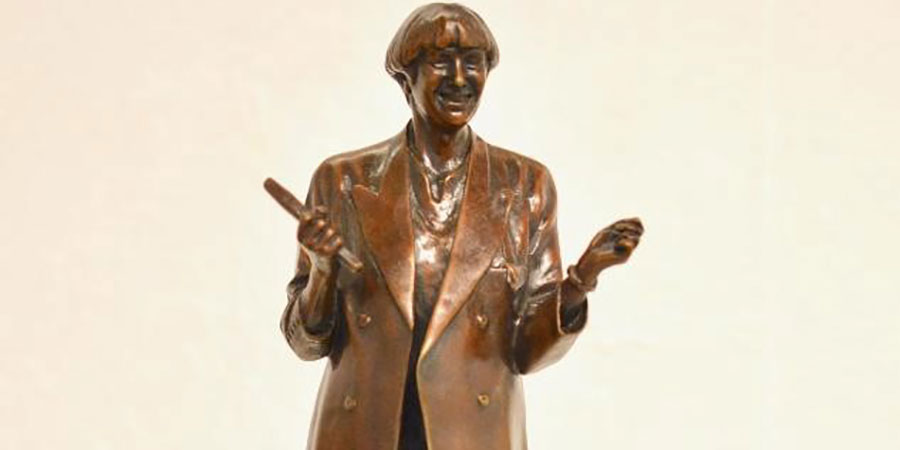 Mini statues of Victoria Wood are now on sale in order to raise funds for a full-size, 6-foot 6-inch version.
The statue - a previously announced joint project between Wood's estate and her home town's council - will be located in Bury's Library Gardens, and is set to be unveiled in May 2019.
The 10-inch scale models will be cast in bronze and mounted on a green slate base, costing £1,500 a piece. Each will have a certificate of authenticity signed by the artist - renown sculptor Graham Ibbeson - and will be delivered in a presentation box. Orders can now be made at the Bury Art Museum Shop, or online through Bury council's website.
Ibbeson was selected to design and sculpt the lifelike bronze statue of Victoria Wood in 2017, after her death in April 2016 from cancer. Wood was an admirer of Graham's work - especially his famed sculpture of Eric Morecambe, located on Morecambe seafront.
More than £20,000 has already been raised from public donations to part-fund the statue.
Graham Ibbeson comments: "I'm excited that we'll be giving people an opportunity to own their own limited-edition scale sculpture, whilst also helping to fund the Memorial Statue. I got the particular pose from watching An Audience With Victoria Wood, which aired in 1988. I've tried to show her enjoying the applause, and the laughter. I hope that they will reflect the nation's affection (and indeed mine) for her unique talent."
The scale statuettes will be produced in a limited run of no more than 40.
---
For updates, click the button below.
Share this page