Iain Stirling's book & podcast
Iain Stirling announces podcast & tour dates as Love Island returns
Iain Stiling has announced a second extension to his live tour U OK Hun? X
He will also publish a book in August, Not Ready To Adult Yet, and launches a podcast this week
The comedian returns to ITV2 tonight as the voice of hit game show Love Island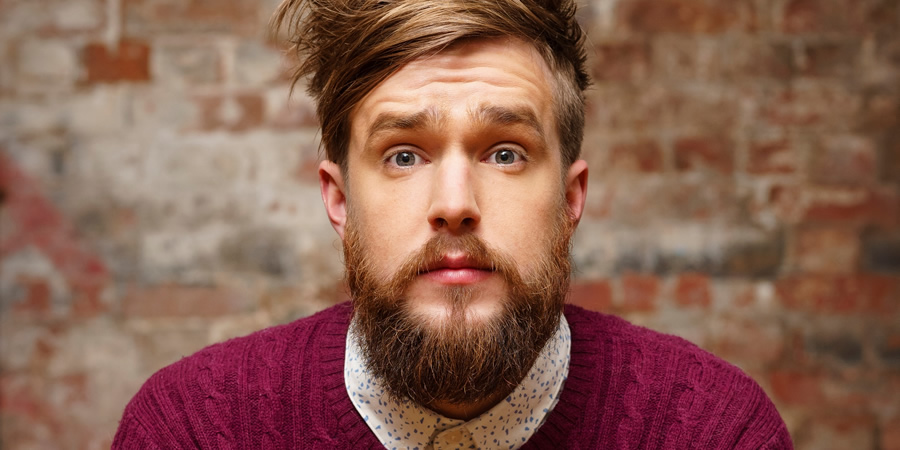 Iain Stirling is to launch a new podcast later this week, ahead of a major tour extension.
The Scottish comedian, who returns to television tonight as the narrator of smash hit ITV2 reality-contest show Love Island, will also publish a book of the same name - Not Ready To Adult Yet - in August. It is available to pre-order now.
Exploring issues surrounding and about the "millennial" generation of which he is part, the book asks "whether [we are] self-obsessed, work-shy, mollycoddled, egomaniacs; or just a misunderstood generation with a fear of failure".
Promoting the book, the Not Ready To Adult Yet podcast will see the comic chatting around themes of the book with friends, fellow comics and his mother. It will run weekly and can be subscribed to now on iTunes.
Meanwhile, Stirling's current live tour has today been extended for a second time. Having performed U OK Hun? X since a sell-out run at the August 2017 Edinburgh Festival Fringe, additional dates have now been added from throughout September, October and November, closing on 2nd December 2018. Tickets are on sale now
At this year's Fringe, he will host three mixed-bill showcase nights under the title Iain (Stirling) Does Jokes (With Pals), at the city's exhibition centre on 22nd, 23rd and 24th August.
Stirling is also due to be back on screens shortly in a second series of CelebAbility. The comedy game show, in which celebrities and members of the public go head-to-head to prove their ability with odd talents recently finished recording and is due to return to ITV2 over the Summer.
---
For updates, click the button below.
So, what do you write about when you do a book? Yourself? Nah, I've not done enough stuff yet (you've got to think word count; I'd really have to drag out that time I went caravanning with Aunty Pam and Uncle Bill in order to achieve anything other than 'pamphlet' status). So, what about my generation? Millennials. We've got loads of stories. We've been celebrated and scorned; it seems we're the envy, fascination and disgrace of the world.
Throughout life, millennials have been taught we're perfect and should live a perfect life - from being mollycoddled by our parents to receiving awards for taking part at school, and the beautiful, filtered lives we all see and share on social media. We've been taught, whatever happens, life should be flawless; whatever you do, don't fuck up. And then we enter the real world and start work, and start having relationships, and failure starts to rear its ugly head. A head none of us were warned about or indeed are ready for.
We were told failure was never an option. And I believed them. But, truth be known, I've fucked up at every point. As have you. And honestly, it's fine.
Funny, provocative and packed-full of entertaining stories, is what my publishers have told me to say about this book. But actually this is my ill-informed guide to what life is really like for millennials and how we can navigate it better.
In his brilliant first book, Iain explores why millennials are the way they are - and whether that makes us self-obsessed, work-shy, mollycoddled, egomaniacs; or just a misunderstood generation with a fear of failure.
First published: Thursday 5th July 2018
It looks like you're in the US? Fear not! Almost everything can still be ordered.
Amazon UK
deliver internationally,
Amazon.com
carries many items separately, or you can look out for US/Canadian flags on our product listings for direct links.
If ordering from a UK store, please note that you are in Region 1 (DVD)/Region A (Blu-ray), whilst the UK is in Region 2/B, respectively. This means that many - but by no means all - may fail to play. Look for products marked "Region free", "All regions", "Region 0" or "Multi-region". Blu-rays may also be marked "Region A/B/C", or variations thereof. You may also check whether your DVD/Blu-ray player supports multi-region playback (also referred to as "region free"), or whether it can be set to do so. There should, of course, be no problems with books, CDs, or other physical items.
More advice & help on importing
Share this page