Jim Bowen dead at 80
Jim Bowen dies aged 80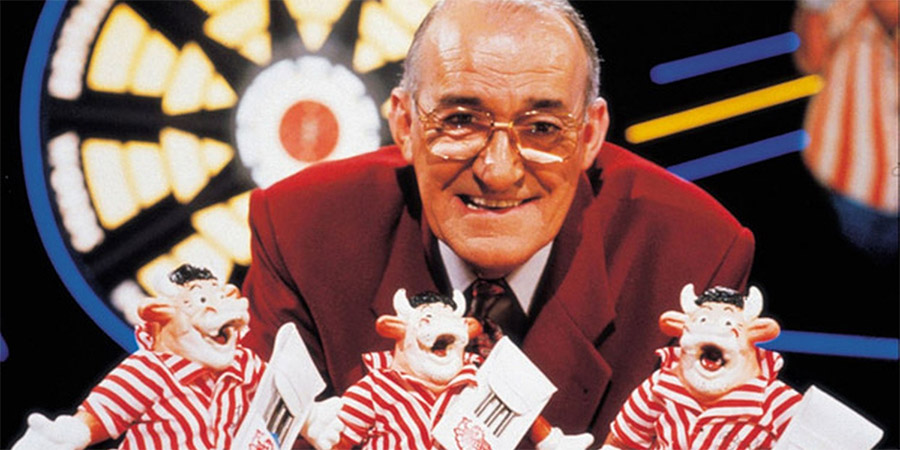 Jim Bowen has died at the age of 80.
Rising to fame as a comic, the entertainer is best remembered as host of ITV darts game show Bullseye, between 1981 and 1995.
A Cheshire native, he was born Peter Williams in August 1937 and adopted by Lancastrian parents, changing his name to James Whittaker. Initially working as a PE teacher and deputy headmaster, he became involved in amateur dramatics in the 1960s, soon progressing to working as a stand-up comedian on the region's working men's club circuit.
He would go on to find national fame - and turn his evening hobby into a full-time profession - in the 1970s, after appearing on the Granada variety programmes The Comedians and The Wheeltappers And Shunters Social Club, both of which showcased the best talent from club land.
In 1981, he became host of a new television game show based around the sport of darts, Bullseye. It became a huge hit and ran for 14 years, still enjoying cult status today.
He also had a limited acting career, with cameo-style guest roles in programmes including Last Of The Summer Wine, Phoenix Nights and Jonathan Creek.
Jim Bowen had suffered a number of strokes in the past decade. The most recent of which, in 2014, severely impacted his ability to perform. He had previously enjoyed a small career resurgence, appearing at the Edinburgh Festival Fringe in 2005 with the Bullseye-centric solo show You Can't Beat A Bit Of Bully, and returning the following year to perform stand-up at the Jongleurs comedy club venue.
He leaves a widow, Phyllis (married 1959), and children Susan and Peter.
His agent Patsy Martin said today: "I will very sadly miss Jim. He was a very lovely, genuine man."
A 2003 live show, You Can't Tell These Anymore!, is available to buy on DVD. An autobiography, Right Place, Right Time, is also available.
Here is a clip of Bowen appearing on The Comedians.
---
Share this page