RIP Emma Chambers
Dibley's Emma Chambers dies aged 53
Vicar Of Dibley star Emma Chambers has died
The actor was famous for playing simple verger Alice Tinker
She died this week of natural causes, aged 53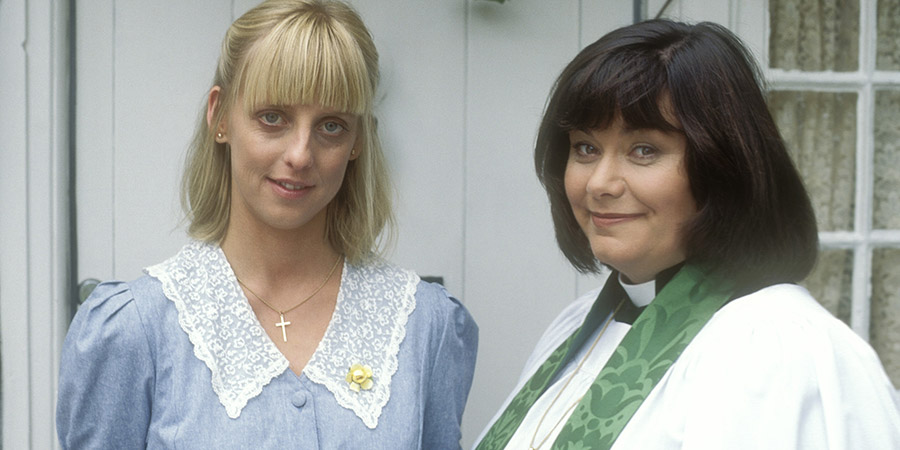 Emma Chambers has died at the age of 53.
The actor is best remembered for playing the role of dim-witted verger and best friend to vicar Geraldine, Alice Tinker, in sitcom The Vicar Of Dibley. She passed away on Wednesday 21st February.
Her agent, John Grant, said in a statement today: "We are very sad to announce the untimely death, from natural causes, of the acclaimed actress Emma Chambers.
"Over the years, Emma created a wealth of characters and an immense body of work. She brought laughter and joy to many, and will be greatly missed. At this difficult time we ask that the privacy of the family and loved ones be respected."
Dawn French tweeted this evening:

I was regularly humped like this by the unique & beautiful spark that was Emma Chambers. I never minded. I loved her. A lot . pic.twitter.com/imzkoyKja9— Dawn French (@Dawn_French) February 24, 2018
Chambers last appeared in the successful 1990s sitcom in its 2006/2007 Christmas specials. Other roles include Helen in How Do You Want Me?.
She also played the role of Honey in international smash hit feature film Notting Hill, by Dibley co-writer Richard Curtis.
Emma Freud, Curtis's partner and the script editor of The Vicar Of Dibley, posted on Twitter:
Our beautiful friend Emma Chambers has died at the age of 53. We're very very sad. She was a great, great comedy performer, and a truly fine actress. And a tender, sweet, funny, unusual, loving human being. pic.twitter.com/vLQcRcv2Ex— emma freud (@emmafreud) February 24, 2018
Chambers is the third member of the Vicar Of Dibley cast to die, following Roger Lloyd-Pack - farmer Owen - in 2014, and Liz Smith - Mrs Cropley - in 2016.
She is survived by her husband, fellow actor Ian Dunn.
---
Share this page