Brodkin pranks May
Simon Brodkin invades Prime Minister's speech
Prankster Simon Brodkin interrupted the Prime Minister's speech today at Conservative Party Conference
The Lee Nelson comic handed the PM a P45 form 'signed' by Boris Johnson before being arrested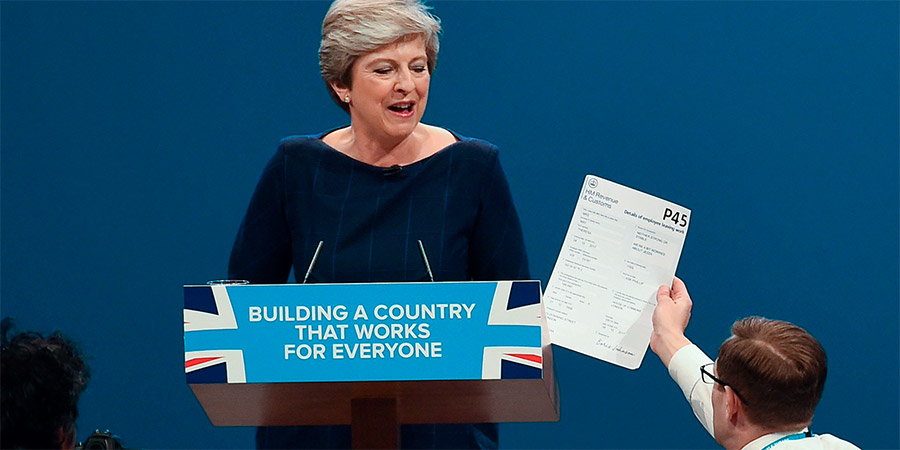 During an error-hit speech, Prime Minister Theresa May was today handed a P45 by comic Simon Brodkin.
The comedian and prankster - also known as his character creation Lee Nelson - followed up on a range of high-profile stunts in recent years by interrupting May's keynote speech at the Conservative Party's Autumn conference, taking place in Manchester.
During the US Presidential campaign last year, he gained international attention when interrupting Donald Trump to hand out Swastika-emblazoned golf balls, as the then-candidate appeared at one of his golfing retreats in Scotland.
Previous pranks also include breaking onto the stage during a Volkswagen event in Germany, in the wake of the diesel emissions scandal; and showering corruption scandal-hit FIFA President Sepp Blatter with fake money during a press conference in Switzerland.
Today's stunt saw the comic handing the beleaguered Prime Minister a fake P45, the HM Revenue & Customs form detailing a employee being fired from their job.
Urgent security questions are already being asked about how the comic was able to gain access to the conference centre and get to the very front of the audience in order to interrupt May's speech. Initial indications are that he was able to secure legitimate press accreditation.
Greater Manchester Police arrested Brodkin to "prevent a breach of the peace", and released him again shortly before 2pm without charge.
The fake P45 form was 'signed' by Boris Johnson, the Foreign Secretary who is widely thought to hope to replace May as Prime Minister and has been the subject of many newspaper headlines in recent weeks. Whilst being escorted from the conference centre by security after the incident, Brodkin insisted to reporters that Johnson had asked him this morning to deliver the form.
In the 'reason for termination' section of the form, Brodkin had written: "Neither strong or stable" and "We're a bit worried about Jezza" - thought to be a reference to Labour leader Jeremy Corbyn, and worry that May's apparent weakness after a bungled election earlier this year, could leave the door open to the far-left wing politician gaining power at a future General Election.
The form also specified May's gender as 'Robot'.
Brodkin detailed the preparations for a number of his stunts in the Channel 4 documentary Britain's Greatest Hoaxer, broadcast earlier this year.
The comic - or more likely, his associates at talent management agency Avalon, as he had been arrested by police - posted on Twitter shortly after the incident:
Hi @BorisJohnson, I gave Theresa her P45 just like you asked. pic.twitter.com/gzW0UluDMv-- Simon Brodkin (@simonbrodkin) October 4, 2017
A photographer from Press Association caught the following image of the form, as Brodkin handed it to May from just in front of the stage.
A close up of the P45 handed to Theresa May by @simonbrodkin Under reason for termination: "Neither strong or stable. We're a bit worried about Jezza." pic.twitter.com/Jzptoscvs3-- Stephen Jones (@SteveJonesPA) October 4, 2017
NEW: We found what we assume is the P45 the prankster tried to hand to PM during her speech. #cpc17 pic.twitter.com/QeB64wxRkT-- Paul Brand (@PaulBrandITV) October 4, 2017
Press Association also published this video of the event:
This was perhaps the biggest of multiple hiccups during Theresa May's keynote speech at #CPC17 pic.twitter.com/iVyxVfvSV5-- Press Association (@PA) October 4, 2017
Meanwhile, The Daily Telegraph published this video of Brodkin being escorted by security from the Manchester Central conference centre, and being questioned by reporters.

The Telegraph's @christopherhope confronts prankster Simon Brodkin as he's removed from the Conservative Party Conference pic.twitter.com/ENe4ucEFXt-- The Telegraph (@Telegraph) October 4, 2017
This video footage, also from Press Association, shows Simon Brodkin under arrest, being lead to a waiting police van before being driven away.

Comedian Lee Nelson being led away by police after his high profile prank at the Tory conference pic.twitter.com/9uujUM3zxT-- Jon Vale (@JonValePA) October 4, 2017
---
For updates, click the button below.
Share this page