GYF New Comedian: Jack Gleadow
Jack Gleadow wins Yorkshire New Comedian award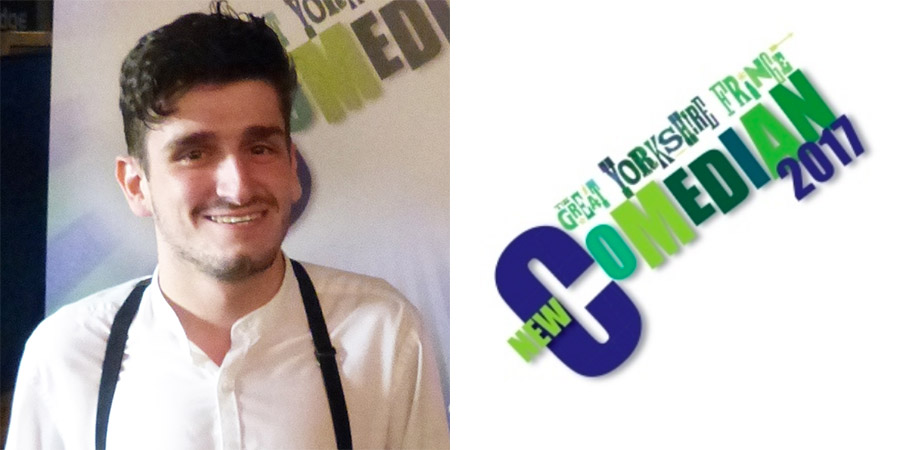 Hull's Jack Gleadow, 22, has been named 2017 New Comedian of the Year at the Great Yorkshire Fringe.
Currently studying for a BA in radio and television in Manchester, Gleadow wins £750 cash.
He was previously named International Young Magician in 2013 but gave up magic to concentrate on stand-up. The multi-talented performer has since also been named Hull Comedian of the Year and Hilarity Bites New Comedian of the Year.
The other finalists were Tom King (from Hull); Gina Jenkinson, who performs under the name Kelli Taylor (Hull); Mike Carter (Liverpool); Edy Hurst (Manchester, originally Yorkshire); Anth Young (Newcastle); and James Harkness, whose stage name is Dougie (Manchester).
Commenting on his win, Jack Gleadow says: "It was as great night - everyone on the bill was good. The £750 prize will get me to Edinburgh for the Fringe next week, so it couldn't have come at a better time!
"These kind of contests are really hard to do - you only get 5 minutes and that's how long it normally takes you to warm up an audience! You just have to treat it as a normal gig, stick to your material. I used some props and audience interaction, a real mixture; I'm a jack of all trades.... you could call me a one-man variety show.
"I definitely want a career in comedy, either acting, presenting; anything in the creative arts."
Great Yorkshire Fringe Director Martin Witts said: "This was possibly the best new act final I've ever seen."
Gleadow's first gig was above a pub in Hull owned by an ex member of The Beautiful South. Gleadow explains: "I had a fun gig and instantly got the bug but I didn't quite have the Perfect 10 yet."
He says his main influences are Lee Evans, Lee Mack, Frank Skinner and Tim Vine: "all legends and so varied but ultimately naturally funny people, and I'm also a huge fan of Morecambe and Wise."
Gleadow will appear at the Edinburgh Fringe for a one-off performance on Sunday 19th August as part of Amused Moose's Afterhours Comedy line-up.
He publishes a free regular podcast, My Favourite Year, available now on Soundcloud.
---
For updates, click the button below.
Share this page