Billy Connolly Glasgow murals
50ft pictures of Billy Connolly erected in Glasgow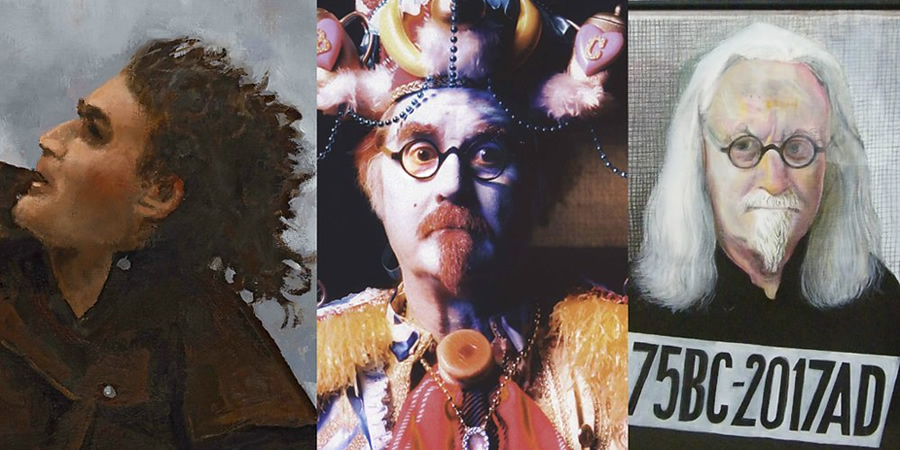 A 'larger than life' tribute to Billy Connolly has been launched by BBC Scotland in conjunction with Glasgow City Council and Glasgow Life.
Three representations of the comedian from original works by top Scottish artists will go up on walls dotted across Glasgow city centre area. The aim is to "literally make Billy Connolly part of the architecture of his home city on a major scale."
The works - which will all be more than 50ft (16m) high - are depictions from specially created portraits of Billy by artists John Byrne, Jack Vettriano and Rachel Maclean.
John Byrne has created a portrait of Billy as he is now, which will go on a wall end in Osborne Street, while a Jack Vettriano painting from the comedian's World Tour of Scotland series in 1994, featuring a windblown Billy on a storm-lashed coast near John O'Groats, will be showcased in Dixon Street.
A Rachel Maclean digital print of Billy - in a specially created outfit, replete with motifs from his career such as 'mini bike parked in bum' epaulettes, a sporran with an 'aged' nose sprouting hair, and make-up reflecting his famous 'pale blue Scotsman' joke, with representations of Glasgow life past and present in the background - will go up in the Gallowgate.
The work is being carried out this month in conjunction with Glasgow City Council's City Centre Mural Trail project and the originals will go on display in the People's Palace museum.
The artwork will also be showcased in a specially commissioned BBC Scotland programme Billy Connolly: Portrait Of A Lifetime, which is due to be transmitted in June.
Billy Connolly, who turns 75 this year, has been central to the whole project, meeting and sitting for the artists. He is delighted with all three original artworks, saying: "I'm probably more famous for being a Glaswegian than anything else I've actually done. It's been great to have been home to take part in this and a real privilege to be part of these artists' work."
Rachel Maclean, whose work is called Big Yin, says: "I think there is a kind of responsibility representing Billy because he is so well known... he is this national treasure within Scotland."
Jack Vettriano admits to being "a huge fan". His depiction is called Dr Connolly, I Presume? while John Byrne's is simply named Billy Connolly. An old friend, who famously painted a portrait of Billy in the 1970s, Byrne pays tribute to Billy in the programme, calling him "a phenomenon... he is a one-off. He is larger than life."
'Big Yin' by Rachel Maclean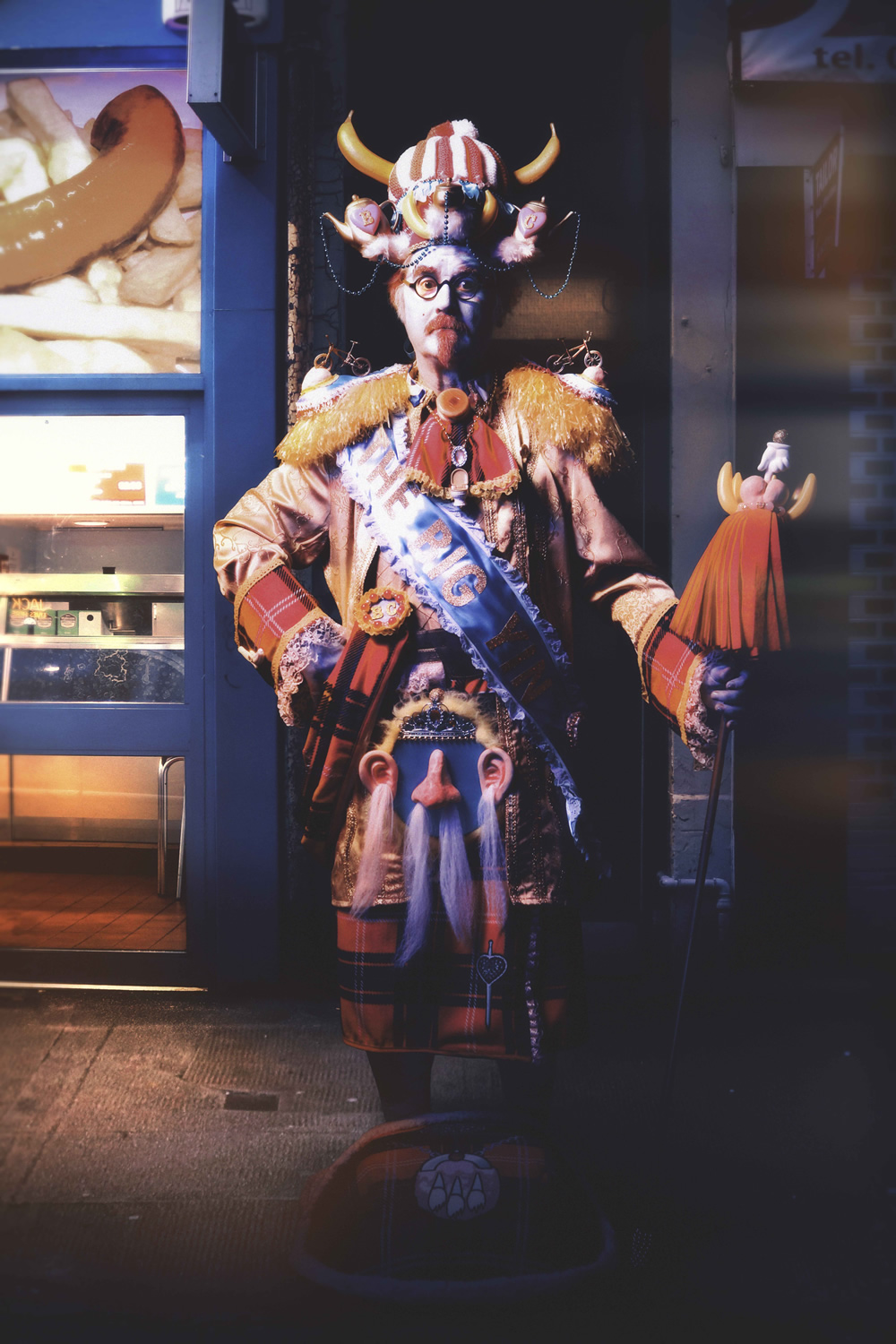 'Billy Connolly' by John Byrne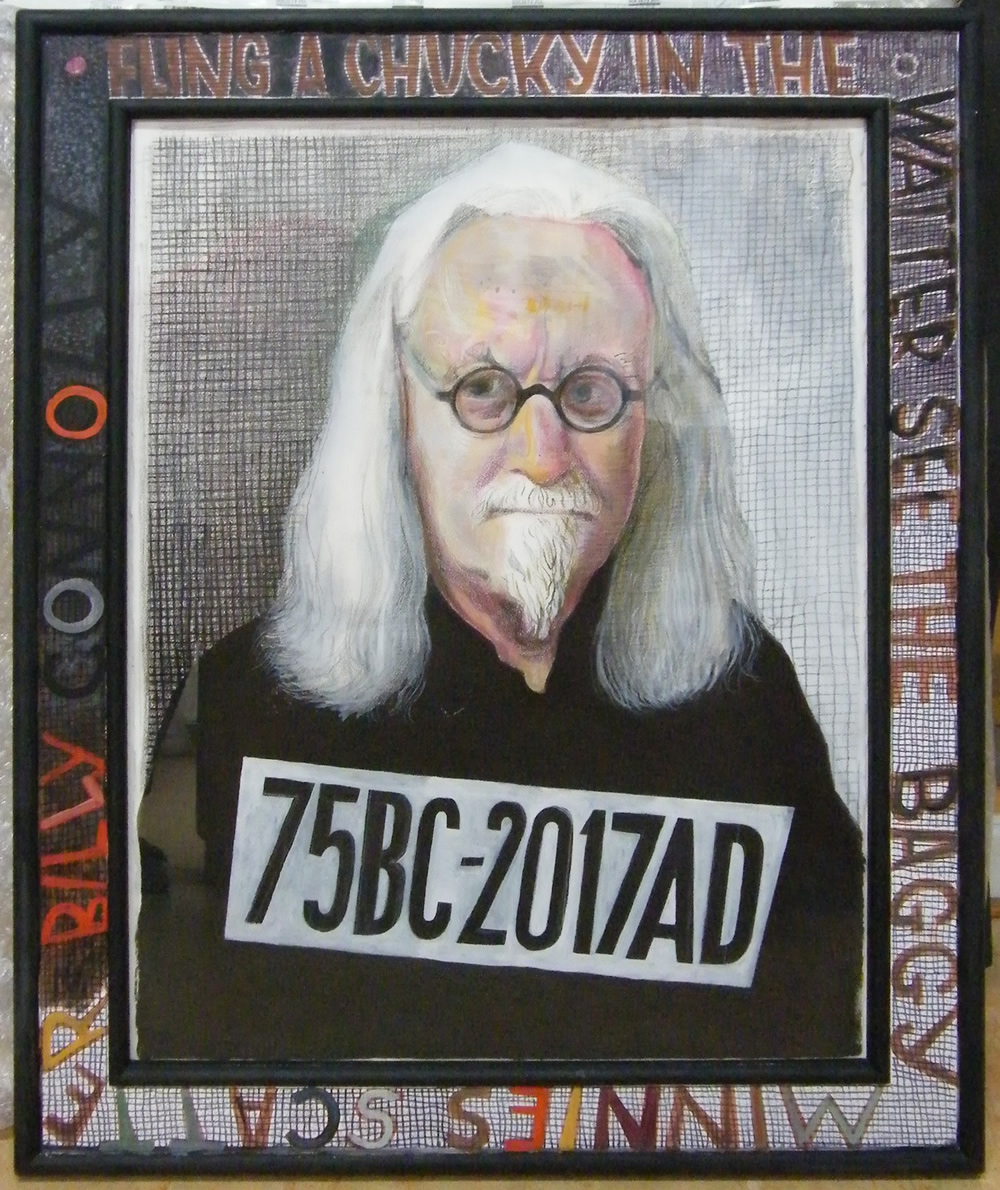 'Dr Connolly, I Presume?' by Jack Vettriano
Pauline Law from the BBC says: "The project is a tribute to a man, who is an international star and national treasure, but who still remains in touch with his Glaswegian roots. He is renowned for his comedy and way with words but we thought it might also be fitting to celebrate his visual and artistic heritage. His artistic side - both as someone who makes artworks and as someone who appreciates art - isn't so well known, but Billy Connolly has undoubtedly become part of the culture of our times; a visual as well as a comedy icon.
"What comes through loud and clear from the project and the programme is that Billy's early years in Glasgow fuelled a lot of his comedy, his appreciation of art and his outlook on life. Through these three artists, we have a fun but also a thoughtful tribute to Billy Connolly, the man and his life. We will be revealing the portraits - and the work that led up them - in all their glory in the programme."
Transmitting on BBC One Scotland in early June, the programme will show clips of highlights from Billy's career, and Billy meeting the artists to talk about life, work, comedy and inspiration.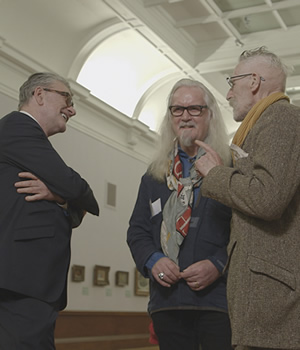 Jane Laiolo, Group Manager for City Centre Regeneration at Glasgow City Council, says: "The Glasgow City Centre Mural Trail has showcased outstanding artwork at all types of locations, attracting worldwide interest. Many visitors come to Glasgow city centre to see these murals, and what better person to feature on the mural trail than someone as synonymous with Glasgow as Billy Connolly. These pieces from renowned Scottish artists will be great additions to the trail, and we can all look forward to seeing these fantastic images of the man himself in the city centre."
Head of Glasgow Museums Duncan Dornan adds: "We are delighted to be able to show Rachel Maclean, Jack Vettriano and John Byrne's striking images of Billy Connolly at the People's Palace from 15 June.
"Billy Connolly needs no introduction to the people of Glasgow. His boundless talent as a comedian, actor and presenter makes him one of Scotland's most famous sons and so it is fitting these extraordinary works of art, commemorating this significant birthday, are to be displayed in Glasgow for the city's people and visitors to enjoy.
"This bolsters the rich relationship Glasgow Museums continues to enjoy with Billy. Last year the People's Palace was lucky enough to host an exhibition of his artwork and some of the most popular exhibits at the museum are memorabilia from Billy's early career, making it the perfect venue for this exhibition.
"We look forward to seeing the forthcoming show and city murals and to welcoming people to the museum to enjoy the artworks of Billy through the ages up close."
Inspired by the new commissions, BBC Arts Digital will also be inviting budding artists to submit their own portraits of Billy Connolly via social media using the hashtag #BigYinPortrait. The best will be featured in an online gallery.
Billy Connolly: Portrait Of A Lifetime will be broadcast on BBC One Scotland in June.
---
For updates, click the button below.
Share this page