David Nobbs dies aged 80
David Nobbs dies aged 80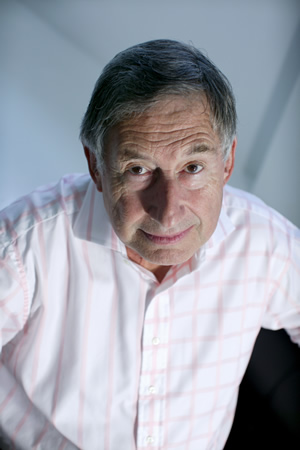 David Nobbs, the comedy writer best known as the creator of Reginald Perrin, has died at the age of 80.
Friends and colleagues of the writer started breaking the news on Twitter at 9pm this evening.
John Cleese wrote: "Very sad today to hear of the death of David Nobbs. First worked with him on The Frost Report in 1966; then on many films for Video Arts."
He added: "A lovely kind, gentle man with a delicious sense of humour. He wrote many top-class shows and books. His masterwork: the Reggie Perrin shows.
"I had not seen him for several years, but it is strange how much I miss him today. When I was a beginner, it thrilled me when I made him laugh."
Nobbs was a prolific comedy writer, with credits ranging from Frankie Howerd's Whoops Baghdad to That Was The Week That Was, Tommy Cooper to The Dick Emery Show, and numerous programmes for Les Dawson, amongst many others.
He created and wrote three series of The Fall And Rise Of Reginald Perrin, in which Leonard Rossiter played the title role.
Initially based on a novel, Nobbs later revived many characters in the 1990s for The Legacy Of Reginald Perrin. Working with Simon Nye in 2009, the original story was re-imagined for two series of BBC One sitcom Reggie Perrin, starring Martin Clunes.
He also wrote comedies including Dogfood Dan And The Carmarthen Cowboy; A Bit Of A Do, starring David Jason; Rich Tea And Sympathy; and the Fall And Rise-inspired Fairly Secret Army, starring Geoffrey Palmer.
The British Humanist Association, of which Nobbs was a patron, confirmed the news of his death. Andrew Copson, the organisation's chief executive, said: "David Nobbs was a very special talent and we were all honoured to have worked with him over his years as a patron of the BHA."
He added: "David's writing was always funny, sharp, and acutely aware of what made people tick. David was a passionate individualist - he believed that meaning was something we were all charged with creating in our own lives - and he was a creator of memorable characters.
"At the same time, he wrote beautiful stories which captured the essence of the human experience, tapping into the emotions and experiences we all share. His books and scripts got to the heart of what it is that makes us human."
Ann Evans, who has acted as Nobbs's agent for many years, noted that he was "wonderful, one of the funniest men I have ever known". She added: "We were great admirers, we loved him. David was one of the leading comedy writers of his generation."
Nobbs is survived by his wife, Susan, and four step-children.
Here is a celebrated clip from The Fall And Rise Of Reginald Perrin:
Here is the full first episode of the celebrated comedy series:
Share this page