'Allo 'Allo! star Sam Kelly dies aged 70
'Allo 'Allo! star Sam Kelly dies aged 70
---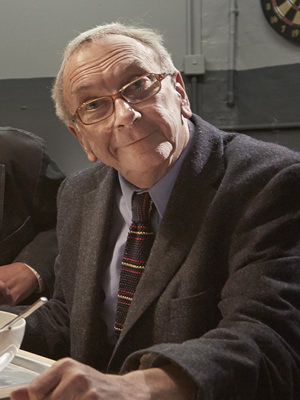 Actor Sam Kelly has died at the age of 70, British Comedy Guide understands.
Sam Kelly had been suffering from cancer for some time and was admitted to a hospice yesterday. He died peacefully this morning with a group of friends close by.
His agent, Lynda Ronan, told the BBC tonight: "He does not leave any family but a host of friends who were his chosen family."
Born in Manchester on 19th December 1943, the actor was best known for his recurring role as 'Bunny' Warren in Porridge, and co-starring in the first four series of 'Allo 'Allo! as the reluctant German Captain Hans Geering.
He will be particularly remembered for the latter role, and his character's call of "'tler!" in half-hearted salute to the Fuhrer.
Sam Kelly also starred alongside Dennis Waterman and Joan Sims in the early 1990s sitcom On The Up, written by Bob Larbey, and as Ted Liversidge in long-running late-1990s/early 2000s ITV sitcom hit Barbara, as husband to the title character.
In the early 1990s, he also played grubby manservant Grunge in Eric Chappell's sitcom adaptation of Haggard, and in the late 2000s played a recurring role of a neighbour of the Harpers in BBC sitcom My Family.
Other comedy roles include appearances in The World Of Cilla, Carry On Dick, The Dick Emery Show, Micawber, Black Books, and Outnumbered.
In recent years, Kelly appeared on the West End stage in Wizard of Oz sequel musical Wicked, playing the Wizard. His most recent run as the character ended due to ill health in January this year.
His final television appearance was in Gold's Porridge 40th anniversary documentary series, Porridge: Inside Out, broadcast during May and June.
In one of his final tweets, posted on Thursday 22nd May, Kelly wrote: "Not too well at the moment, but haven't gone anywhere. Not even Heaven. Lovely to see Clement and la Frenais talking at length. Grouty soon!"
Kelly delivered perhaps the most celebrated line in 'Allo 'Allo!'s long run, during the Series 2 Christmas special, The Gâteau From The Château:
Here is a short character tribute to Captain Geering:
Share this page