Felix Dexter has died
Felix Dexter has died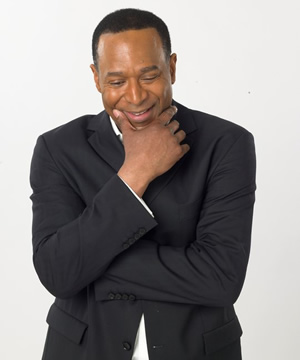 Award-winning stand-up comic, writer and actor Felix Dexter has died.
The 52-year old comedian had been ill in hospital, and he died on Friday following a long battle with the bone marrow cancer, multiple myeloma.
Dexter was born in the Caribbean, but moved to London with his family when he was still a child. After graduating with a degree in law, he soon became a full time comedian and rose to national prominence as the character act 'Nathaniel the Accountant' on the 1990s BBC Two comedy series The Real McCoy.
He has been a regular on the stand-up circuit ever since, performing countless gigs in the process. He also worked as a writer and actor on television and radio, with his credits including The Fast Show, The Lenny Henry Show and Absolutely Fabulous.
Dexter was a key writer and performer on Radio 4's spoof phone-in show Down The Line, and appeared in the BBC Two spin-off Bellamy's People.
He has also been a main cast member in BBC One sitcom Citizen Khan, playing the role of regular mosque attendee Omar. The second series of the sitcom is currently transmitting on Friday nights.
Meanwhile his non-comedy roles include television shows such as Vanity Fair and Empire, whilst his theatre work included a season with the Royal Shakespeare Company playing Autolycus in The Winter's Tale and at the National Theatre alongside Helen Mirren in Mourning Becomes Electra. He also appeared in two runs of One Flew Over The Cuckoo's Nest in the West End.
Agent Geoff Whiting from Mirth Control Comedy said: "We had a close association with Felix over many years and he was a great guy, a talented comic and a true professional. My thoughts are with his family and friends at this very difficult time for them all."
Whiting added: "I had the pleasure of going over to do the Guernsey Comedy Festival with him for a three night run the year before last and we spent time together talking about the highs and lows of being a stand-up and swapping tales of life on the road. Fond memories indeed of a man who will be sadly missed. May he rest in peace."
Tributes to Dexter have quickly poured in from friends, colleagues and other stand-up comics via Twitter. John Thomson tweeted: "I'm absolutely devastated to hear that one of my old mates from the comedy circuit Felix Dexter has died! So shocked!"
Bill Bailey posted: "Very sad news about my old friend Felix Dexter. A brilliant comedian, a superb comic actor, a lovely man I feel privileged to have known."
Shappi Khorsandi added: "Just heard Felix Dexter has passed away. He was one of THE most supportive comics to us new open spots and a world class performer. RIP."
Whilst Sean Hughes commented: "So so sad to hear about the truly wonderful Felix Dexter passing away. I hope you can feel the love in the comedy community fella. Rip."
Citizen Khan creator Adil Ray used his Twitter feed to say: "A friend. A fighter. A brother. An artist. A professional. Please raise a laugh to the beautiful man that is Felix Dexter. Love you bro."
Dexter's close friend Eddie Nestor told the BBC: "It's a sad day. It's a really sad day. I went to see him and we talked and we laughed, and we laughed really hard. This is somebody who's been diagnosed with a terminal illness and you find yourself laughing really hard, belly laughs. We've lost a talented, intelligent, articulate performer who could touch - who could reach out."
Below is a clip of Dexter performing as Nathaniel on The Real McCoy:
Whilst here is Dexter appearing in a TV interview in 2010 talking about his Edinburgh Fringe show:
And here is Dexter as Julius Olufemwe in Bellamy's People:
Share this page